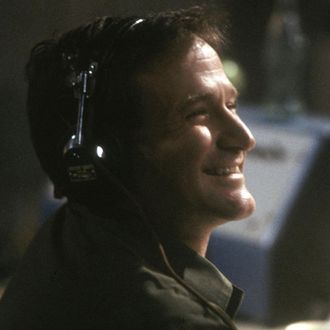 Photo: Touchstone Pictures
Each month, several films and TV shows leave Showtime's catalogue. We provide a list of departing titles so you can watch them before they're gone forever (or are just available on a different site). For more comprehensive coverage of the best titles available on Showtime and elsewhere, check out Vulture's What to Stream Now hub, which is updated throughout the month.
Laughing on the front lines: Good Morning, Vietnam (1987)
Until I hear a convincing argument otherwise, I'm going to declare this razor-sharp war comedy Robin Williams's finest hour. It was a perfect fit for his talents: He plays an off-the-cuff radio host during the Vietnam War whose improvised, often filthy ramblings get him into trouble with his bosses. Buried in this laugh riot is a serious argument for the essential nature of comedy as a force to be wielded against the humorless authorities who run the world and send other men to die on their behalf. Leaving November 30.
Bad Santa: Silent Night, Deadly Night (1984)
You know what's funny? There was once a time in America when the thought of seeing a crazed killer dressed in a Santa Claus suit in a schlocky B-movie was so disturbing it could cause mass hysteria in concerned-parent groups across the country. Was this perverted need to keep commercial Christmas iconography completely unsullied the predecessor to today's panic over "Happy Holidays" greetings? Maybe divorced from its initial controversy, this cult horror picture doesn't have quite the, er, holiday spirit it once did. But hey, it's a murderer in a Santa suit. That's a victory of some kind. Leaving November 30.
What were they thinking? Where the Truth Lies (2005)
One of those fascinating misfires that makes you strangely grateful someone funded it at all, Atom Egoyan's NC-17 drama about the dark secrets behind a Jerry Lewis–and–Dean Martin–like showbiz duo (Colin Firth and Kevin Bacon) is most notable for its steamy, drug-fueled orgy scenes and narrative incoherence. But even when Egoyan is way over his head, as he frequently is, he can conjure some striking sequences, and the high-end gloss coating this film is a fascinating, incongruous match for the luridness within. Leaving November 30.
November 2
Calendar Girls
November 23
Slow Burn (2007)
November 24
Notting Hill
November 30
Bad Ass
Bloodsport
Cleanskin
Critical Care
The Facility
Frequencies
Good Morning, Vietnam
Hannibal
Heartless
Lara Croft: Tomb Raider
The Last One
Mission: Impossible 2
The One
Pauly Shore Stands Alone
Revolutionary Road
Silent Night, Deadly Night
Six Days, Seven Nights
Supernova
Where the Truth Lies
Wild Bill