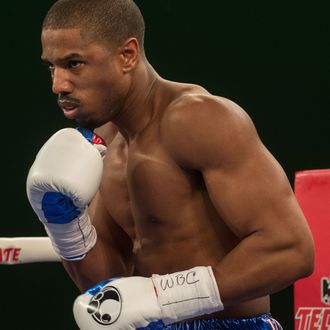 Photo: Barry Wetcher/Warner Bros. Entertainment Inc.
At the beginning of (and throughout) every month, Amazon Prime and Amazon Instant Video add new movies and TV shows to their libraries. Some of these may also have previously been on Amazon, only to have been removed and then added back. For more comprehensive coverage of the best titles available on Amazon and elsewhere, check out Vulture's What to Stream Now hub, which is updated throughout the month.
Boxer, brief: Creed
All of the Rocky movies save Rocky Balboa will be available this month, and while II–V are pretty skippable, there's an awesome power to Ryan Coogler's high-energy update to the franchise that demands to be experienced. Michael B. Jordan tears through the streets of Philadelphia with gusto in the central role, and dammit if his final fight doesn't explode from the screen. Available November 19.
The shape-up: Barbershop
Amazon and Hulu share a lot of the same new offerings this month, including the original installment in Ice Cube's hangout comedy series. Barbershop conjures a perfectly entertaining group of friends and colleagues for us to spend time with, and it's also the inspiration for the immortal Chappelle's Show quip: "You know that's just a front — they sell drugs at the barbershops." Available November 1.
"She had her kicks": From Russia With Love
Like the Rockys, a vast selection of early Bonds are coming to both Amazon and Hulu this month. Skip the inferior Roger Moore installments and stick with the Sean Connery era, including the one that first introduced us to the menace of SPECTRE. It's fun to see the filmmakers still trying to figure out just how outlandish they were allowed to be — and Klebb's simple poison-tipped shoe makes for a surprisingly terrifying weapon. Available November 1.
TELEVISION
Available on Prime
The Night Manager: Season 1 (November 5)
Flesh and Bone: Season 1 (November 9)
Red Oaks: Season 2 (November 11)
The Royals: Season 2 (November 15)
Grantchester: Season 2 (November 18)
Available for purchase
Salem: Season 3 (November 3)
Splash and Bubbles: Season 1 (November 14)
Wild Kratts: Creatures of the Deep Sea: Season 1 (November 14)
The Syndicate: All or Nothing: Season 1 (November 14)
Wentworth: Season 1 (November 14)
Mars: Season 1 (November 15)
Soundbreaking: Season 1 (November 15)
Black America Since MLK: And Still I Rise (November 16)

MOVIES
Available on Prime streaming November 1
The Addams Family (1991)
Addams Family Values (1993)
Barbershop (2002)
Be Cool (2005)
The Conversation (1974)
Courage Mountain (1990)
Death at a Funeral (2007)
Deterrence (1999)
Diamonds Are Forever (1971)
Die Another Day (2002)
Dr. No (1962)
Enter the Ninja (1981)
Erin Brockovich (2000)
Fatal Attraction (1987)
Fletch (1985)
For Your Eyes Only (1981)
From Russia With Love (1963)
Get Shorty (1995)
Goldeneye (1995)
Goldfinger (1964)
Good Advice (2001)
Happily N'Ever After (2006)
Happily N'Ever After 2: Snow White (2009)
Legally Blonde (2001)
License to Kill (1989)
The Little Girl Who Lives Down the Lane (1976)
Live and Let Die (1973)
The Living Daylights (1987)
Major League (1989)
Man With the Golden Gun (1974)
Matilda (1996)
Meet Joe Black (1998)
Mermaids (1990)
Moonraker (1979)
Never Say Never Again (1983)
Octopussy (1983)
On Her Majesty's Secret Service (1969)
Rocky (1976)
Rocky II (1979)
Rocky III (1982)
Rocky IV (1985)
Rocky V (1990)
Rollerball (1975)
Rollerball (2002)
Rounders (1998)
Shadows and Fog (1991)
The Spy Who Loved Me (1977)
The Switch (2010)
Terms of Endearment (1983)
The World Is Not Enough (1999)
Thunderball (1965)
Tomorrow Never Dies (1997)
Top Secret! (1984)
Up in the Air (2009)
Urban Cowboy (1980)
A View to a Kill (1985)
You Only Live Twice (1967)
Available on Prime later in November
The Haunting in Connecticut (2009) (November 7)
A Monster With a Thousand Heads (2015) (November 7)
Steve McQueen: The Man & Le Mans (2015)  (November 7)
Green Room (2015) (November 12)
Almost Holy (2015) (November 14)
Miss You Already (2015) (November 17)
Patton Oswalt: Comedy Plus Tragedy Equals Time (2014) (November 17)
Creed (2015) (November 19)
Available for purchase
Star Trek Beyond (2016) (November 1)
Tickled (2016) (November 1)
Northpole (2014) (November 1)
Suicide Squad (2016) (November 15)
Mia Madre (2015) (November 15)