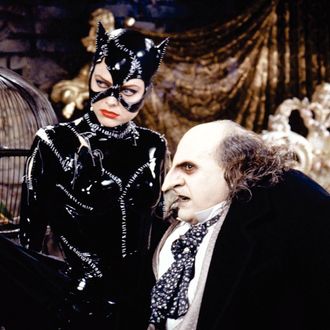 At the beginning of (and during) each month, HBO adds new movies and TV shows to HBO Go and HBO Now. Below, you'll find our November recommendations. For more comprehensive coverage of the best titles available on HBO and elsewhere, check out Vulture's What to Stream Now hub, which is updated throughout the month.
Penguin plans: Batman Returns
You might be tempted to watch Batman v Superman: Dawn of Justice, which is also coming to HBO this month. I would implore you not to do this. Look, here are all of the older, pre-Nolan entries in the series! If you've got a Batman itch, take your pick. I'm partial to Danny DeVito's Penguin in Batman Returns, but it's totally okay if you choose another. Watch the Clooney Nipples one if you really want. Just don't encourage the Zach Snyderverse any more than we already have. Seriously. Let's hold strong. Available November 1.
Life is a state of mind: Being There
Peter Sellers plays a simple gardener, educated solely by television, who becomes an presidential adviser in Hal Ashby's timeless fable-satire. Perhaps unsurprisingly, the film's message about sound bites replacing sustenance and a person's outward appearance counting for more than their inner self may have even more relevance today than it did in 1979. Available November 1.
The future isn't written: Minority Report
Is that Fox show still on? Forget about it. The original Steven Spielberg–Tom Cruise joint is where it's at, perfectly hitting that sweet spot of dark, thought-provoking science fiction. Watching a man waving those computer boxes around with his hands will never get old. Available November 1.
MOVIES
November 1
Paper Moon (1973)
All the President's Men (1976)
AVPR: Aliens vs. Predator Requiem (2007)
Batman (1989)
Batman & Robin (1997)
Batman Forever (1995)
Batman Returns (1992)
Batman: The Dark Knight Returns, Part 1 (2012)
Batman: The Dark Knight Returns, Part 2 (2013)
Batman: Under the Red Hood (2010)
Batman: Year One (2011)
Being There (1979)
Blast From the Past (1999)
The Color of Money (1986)
The Dead Pool (1988)
The Divergent Series: Insurgent (2015)
Hitman (2007)
Insidious: Chapter 3 (2015) 
King Ralph (1991)
Matchstick Men (2003)
Minority Report (2002)
Miracle on 34th Street (1947)
Old School: Extended Cut (2003)
The Sand Pebbles (1966)
The Young Messiah (2016)
November 2
Hitman: Agent 47 (2015)
November 5
How to be Single (2016)
November 12
The Divergent Series: Allegiant (2016)
All Def Comedy (2016)
November 14
Underfire: The Untold Story of PFC. Tony Vaccaro (2016)
November 19
Race (2016)
November 21
Marathon: The Patriots Day Bombing (2016)
November 25
Eddie the Eagle (2016)
November 26
Batman v Superman: Dawn of Justice (2016)
November 28
Patria o Muerte: Cuba, Fatherland or Death (2016)
Mariela Castro's March: Cuba's Sexual Revolution (2016)