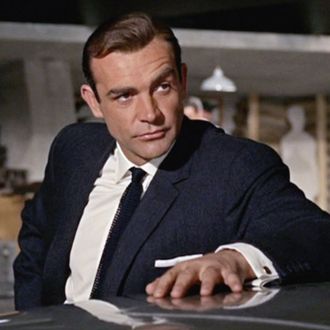 At the beginning of (and during) every month, Hulu adds new movies and TV shows to its library. Below, you'll find our recommendations for November. For more comprehensive coverage of the best titles available on Hulu and elsewhere, check out Vulture's What to Stream Now hub, which is updated throughout the month.
Shaken, not stirred: Goldfinger
The best Bond film? It's okay, you can say it. Hulu and Amazon have a lot of old 007 favorites streaming this month, but none with quite the same kick as this 1964 Sean Connery joint, featuring "the man with the Midas touch," the hat-throwing Oddjob, and Pussy Galore. And the image of the gold-painted Jill Masterson is the everlasting, perfectly horrifying conflation of sex appeal, commoditization of the female body, and a cruel death at the hands of warring men. Available November 1.
Queen of hearts: The Manchurian Candidate
Hypothetically, if one wanted to watch a thriller about the brainwashing of a wealthy right-wing family by the Russians for purposes of overthrowing American democracy, with a plan that includes "rallying a nation of viewers to hysteria, to sweep us up into the White House with powers that will make martial law seem like anarchy," there are worse moments than the present day. Available November 1.
Dancing on her own: Showgirls
Paul Verhoeven's arty, trashy master-disaster is the best and the worst of show business, all rolled into one. Watch it, and then lose yourself in the rabbit hole of era-specific critical pans and the equally vociferous reappraisals. By the end, like the poor, stranded Kyle MacLachlan, you may feel fascinated and disoriented in equal measure. Available November 1.
MOVIES

November 1
The Addams Family (1991)
The Addams Family Values (1993)
Barbershop (2002)
Be Cool (2005) 
Bratz: the Movie (2007) 
Charlie's Angels (2000)
Charlie's Angels: Full Throttle (2003)
The Conversation (1974)
Count Yorga, Vampire (1970)
Courage Mountain (1990)
The Cutting Edge (1992) 
Dances With Wolves (1990)
Death at a Funeral (2007)
Deterrence (2000)
Diamonds Are Forever (1971)
Die Another Day (2002)
Dr. No (1963)
Election (1999)
Enter the Ninja (1981)
Fargo (1996)
Fatal Attraction (1987)
For Your Eyes Only (1981) 
From Russia With Love (1964)
Get Shorty (1995) 
Goldeneye (1995)
Goldfinger (1964)
Good Advice (2002)
Good Will Hunting (1997)
Happily N'Ever After (2007)
Happily N'Ever After: Snow White (2009) 
Hoosiers (1986) 
License to Kill (1989) 
The Little Girl Who Lives Down the Lane (1976) 
Live and Let Die (1973)
The Living Daylights (1987)
Mad Max (1979)
Major League (1989)
Man With the Golden Gun (1974)
The Manchurian Candidate (1962) 
Mermaids (1990) 
Mission: Impossible (1996) 
Moonraker (1979)
On Her Majesty's Secret Service (1969)
Punch Drunk Love (2002)
Rescue Dawn (2006)
Rocky (1976)
Rocky II (1979)
Rocky III (1982)
Rocky IV (1985)
Rocky V (1990)
Rollerball (1975)
Rollerball (2002)
Rounders (1998)
Saved (2004)
Shadows and Fog (1992)
Showgirls (1995)
Spaceballs (1987)
The Spy Who Loved Me (1977)
Terms of Endearment (1983)
Thunderball (1965)
Up in the Air (2009)
November 7
The Haunting in Connecticut (2009)

November 11
The Damned (2014)
November 17
Patton Oswalt: Comedy Plus Tragedy Equals Time (2013)
November 19
Creed (2015)

November 24
Love and Honor (2013) 
Welcome to the Punch (2013)

November 25
War Story (2014)
TELEVISION
November 1
Top Chef: Season 13
Lucky Romance: Season 1
November 6
The Real Housewives of Beverly Hills: Season 6
November 7
Neon Joe: Season 1
November 8
Almost Royal: Season 2
November 13
Animal Fight Night: Season 4 premiere
November 15
Scott & Bailey: Season 5
November 18
Miles from Tomorrowland: Season 1
November 24
Uncle Grandpa: Season 1