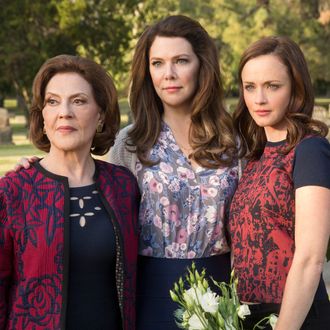 Photo: Robert Voets/Netflix
At the beginning of (and during) each month, Netflix adds new movies and TV shows to its library. Below, you'll find our November recommendations. For more comprehensive coverage of the best titles available on Netflix and elsewhere, check out Vulture's What to Stream Now hub, which is updated throughout the month.
Welcome back to Stars Hollow: Gilmore Girls: A Day in the Life
It's heartening to see the revival of a talky, intelligent series about two women in a small town be anticipated with the fervor of Star Wars. As long as we can get our excitement up for both smart things and big explosions, all is not lost. Anyway, we know you're planning to watch this, perhaps while your family still digests Thanksgiving dinner. Just a handy reminder. Available November 25.
Twenty-first-century man: Boyhood
A pure cinematic vision, Richard Linklater's chronicle of a boy growing up in America is one for the ages, dampened only slightly by the fact that the kid emerges from the other end as kind of a pretentious dick. (You know it's true.) At home you can follow Mason's story a few chapters at a time, if the film's three-hour run time was too daunting in theaters. Bonus: You'll be even more amazed by his growth spurt. Available November 25.
The garbageman speaks: Norman Lear: Just Another Version of You
Decades after All in the Family, Archie Bunker's impact on culture continues to be felt — heck, he's basically running for president. Get inside his creator's head with this insightful documentary, which also includes a great segment on the racial politics of Good Times and The Jeffersons. Available November 1.
Marmalade sandwich: Paddington
A goofy little bear in a rain slicker turns a modern immigration story into family-friendly fun. This delicious children's film, in addition to being packed with great sight gags, carries a strong message about granting kindness to the least fortunate among us, even orphaned small-of-brain teddy bears from Darkest Peru. Available November 16.
TELEVISION
November 4
The Crown (season 1)
World of Winx (season 1)
November 9
Danger Mouse (season 2)
November 11
All Hail King Julien (season 4)
Case (season 1)
Estocolmo (season 1)
Roman Empire: Reign of Blood (season 1)
Tales by Light (season 1)
November 15
K-POP Extreme Survival (season 1)
November 16
The 100 (season 3)
November 17
Lovesick (season 2) (Formerly known as Scrotal Recall)
Paranoid (season 1)
November 18
Beat Bugs (season 2)
November 23
Penguins: Spy in the Huddle (season 1)
November 25
3% (season 1)
Gilmore Girls: A Year in the Life
MOVIES
November 1
The African Queen (1951)
Alfie (2004)
Bob the Builder: White Christmas (2008)
Candyman 2: Farewell to the Flesh (1995)
The Confessions of Thomas Quick (2016)
Cujo (1983)
The Doors (1991)
The Heartbreak Kid (2007)
Jetsons: The Movie (1990)
King's Faith (2013)
Love, Now (2012)
Norman Lear: Just Another Version of You (2016)
Pervert Park (2014)
Ravenous (1999)
Stephen King's Thinner (1996)
Tales from the Darkside: The Movie (1990)
Thomas & Friends: A Very Thomas Christmas (2012)
Thomas & Friends: Holiday Express (2012)
Thomas & Friends: Merry Winter Wish (2010)
Thomas & Friends: The Christmas Engines (2014)
Thomas & Friends: Ultimate Christmas (2009)
November 2
Dough (2015)
Food Choices (2016)
Meet the Blacks (2016)
November 4
Dana Carvey: Straight White Male, 60 (2016)
The Ivory Game (2016)
Just Friends (2005)
November 11
True Memoirs of an International Assassin (2016)
Under the Sun (2015)
November 12
Take Me to the River (2015)
November 13
Chalk It Up (2016)
November 14
Carter High (2015)
November 15
Dieter Nuhr: Nuhr in Berlin (2016)
Men Go to Battle (2015)
The Missing Ingredient: What Is the Recipe for Success? (2016)
November 16
Burn After Reading (2008)
Jackass 3.5: The Unrated Movie (2011)
Paddington (2014)
November 18
The Battle of Midway (1942)
Colin Quinn: The New York Story (2016)
Divines (2016)
Prelude to War (1942) 
San Pietro (1945)
Sour Grapes (2016)
Thunderbolt (1947)
Tunisian Victory (1944)
Undercover: How to Operate Behind Enemy Lines (1943)
Why We Fight: The Battle of Russia (1943)
WWII: Report From the Aleutians (1943)
November 22
Mercy (2016)
November 25
Boyhood (2014)
Michael Che Matters (2016)
November 29
Silver Skies (2016)
November 30
Ghost Team (2016)
I Dream Too Much (2016)
The Jungle Book (2016)
Level Up (2016)
Traded (2016)