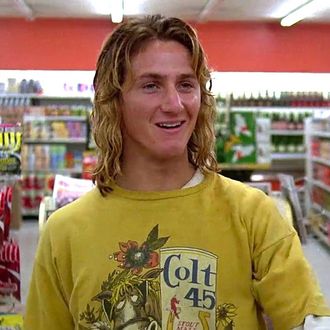 Photo: Universal Pictures
Each month, Showtime adds new movies to its library. Below, you'll find our November recommendations. For more comprehensive coverage of the best titles available on Showtime and elsewhere, check out Vulture's What to Stream Now hub, which is updated throughout the month.
Doesn't anyone knock anymore?: Fast Times at Ridgemont High
Yeah yeah, Spicoli! Phoebe Cates! But Amy Heckerling's seriocomic teen dream has vaulted to legendary status not just because of stoner quotes and red bikinis. There's also the bold way the film handles stories like a young woman's abortion, never afraid to keep things honest and messy for its audience. Even the good teen movies today, like The Edge of Seventeen, still feel like they're holding truth back when stacked next to this. Available November 1.
The American myth: Born on the Fourth of July
Oliver Stone is back in vogue, thanks to Snowden and the new career retrospective by Vulture's own Matt Zoller Seitz. Check out one of the early films that put him on the map, with a revelatory lead performance from Tom Cruise as a young Marine in Vietnam who finds his most deeply held beliefs shaken to the core — not only by becoming paralyzed in battle, but also by the way he's received back home. After voting in the election, you may find this is an essential way to put our national character into some much-needed perspective. Available November 1.
Going viral: Zero Days
The latest documentary out of the Alex Gibney factory is about Stuxnet, a malicious Frankenstein's monster of a computer virus originally designed by the U.S. and Israel as a weapon of cyberwarfare, before it mutated hideously out of control. At a time when we cavalierly discuss state-sponsored hacking like it's some big joke, it's not a bad idea to remind yourself just how fragile our global digital infrastructure truly is. Available November 19.
November 1
After (2012)
American Wedding (2003)
Bang Bang Baby (2014)
Big Significant Things (2014)
The Bleeding (2009)
Born on the Fourth of July (1989)
Cecil B. Demented (2000)
The Entitled (2011)
Erin Brockovich (2000)
Fast Times at Ridgemont High (1982)
Freedom (2014)
Good Advice (2001)
The Honeymooners (2005)
Internal Affairs (1990)
The Ladies Man (2000)
Meskada (2010)
The Next Hit (2008)
Paid in Full (2002)
Rugrats in Paris: The Movie (2000)
Santa Claws (2014)
November 4
One & Done/Ben Simmons (2016)
November 19
Zero Days (2016)