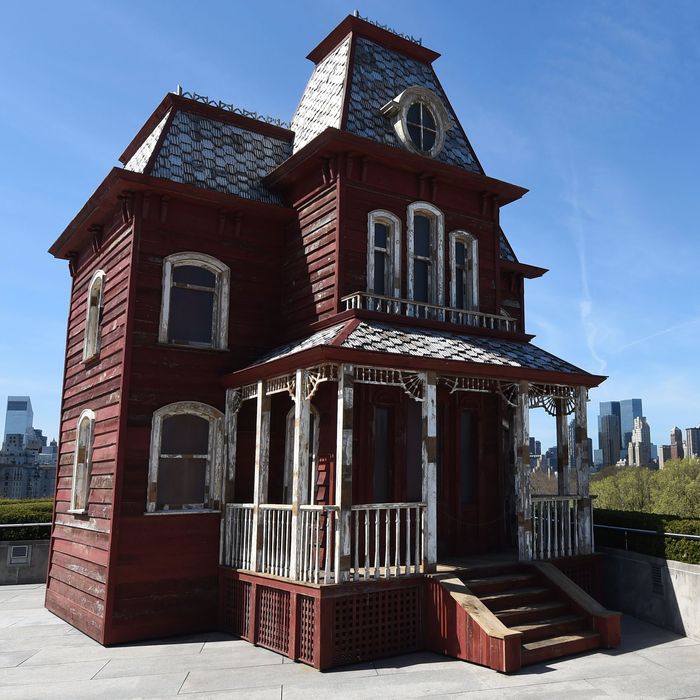 A press preview on shows April 18, 2016 a large-scale sculpture by British artist Cornelia Parker, inspired by the paintings of Edward Hopper and by two emblems of American architecturethe classic red barn, and the Bates family's mansion from Alfred Hitchcock's 1960 film "Psycho". The show comprises the fourth annual installation of site-specific works commissioned for The Metropolitan Museum of Art's Iris and B. Gerald Cantor Roof Garden. / AFP / TIMOTHY A. CLARY / RESTRICTED TO EDITORIAL USE - MANDATORY MENTION OF THE ARTIST UPON PUBLICATION - TO ILLUSTRATE THE EVENT AS SPECIFIED IN THE CAPTION (Photo credit should read TIMOTHY A. CLARY/AFP/Getty Images)
Photo: TIMOTHY A. CLARY/AFP/Getty Images
I went to see this summer's Cornelia Parker sculpture on the Metropolitan Museum roof last week, in the final month of its six-month New York run. This proved to be perfect timing. Parker brings a lot of fascinating baggage to the Met rooftop, where she re-created the Victorian Tudor mansion where "Mother" and son lived in Alfred Hitchcock's 1960 film Psycho. Or maybe I brought the baggage.
Hitchcock brought it all to Psycho: horror, mystery, sex, embezzlement, an afternoon tryst in a Phoenix hotel, a woman on the lam, whiffs of incest and necrophilia, cross-dressing, a limbo location, voyeurism, a private dick playing cat-and-mouse until he becomes the mouse, swamps, the darkness of the American night, an American man searching for and obliterating his identity. And of course one of the most famous three minutes in all of cinema: the shower scene and its 50 cuts and 77 camera angles scored by Bernard Herrmann's screeching violins, violas, and cellos — maybe the soundtrack of our upcoming election. On the Met roof, Parker's Transitional Object (PsychoBarn) doesn't come on with that kind of toxic shock. How could it? In fact, it only held my attention for several contented minutes. Yet, because Parker made a number of nifty decisions, it triggered loads of sinister embedded psychology in me afterward. For that I have to give her a little credit, even if mostly what she's done is found a new way to plug us into Hitchcock, all of his weirdness, and what that taps into.
Parker, 60, is one of the so-called "young British artists," or YBAs, who emerged out of England in the early 1990s — the most famous of them being Damien Hirst and Tracey Emin. Parker was always an odd fit, her work lacking the edgy irony of the others', and tending more to the decorative and abstract interior decoration. Typical were clusters of similar objects suspended from the ceiling in geometric configurations — floating carpets or ornamental shapes of silverware, musical instruments, clay, parts of a garden shed. The effect of these floating inanimate things was generally poetic, sometimes captivating, but they rarely produced in me anything more than a sweetly contemplative sigh.
Here, on top of the Met, Parker rises decisively into real space to better effect. Transitional Object is made entirely from a cut-up and reconfigured decaying barn from Schoharie, New York, which means the eerie black-and-white neverland of Psycho is transformed by the beautiful warm Americana red. Creepiness still exudes from the architectural style, and Parker wisely only re-creates two sides of the house, leaving scaffolding and support visible. In this way, her work follows the "real" Bates house, whose two sides now stand behind the "real" Bates Motel on a lot at Universal Studios in Hollywood. I was there and it worked its sooty voodoo on me. Adding art historical karma, Hitchcock based his haunted house on Edward Hopper's House by the Railroad, 1925. Parker's decaying barn recalls a Hopper house or barn as well.
Over the years, the Met's rooftop installations have been hit-and-miss and have included Jeff Koons doing his shiny thing there in 2008 and Dan Graham building one of his typical translucent pavilions there in 2014. The high point was easily Mike and Doug Starn's incredible Big Bambu (2010), a huge hand-cobbled-together bamboo castle-tower that viewers moved through like some fantasy termite mound. Tie for the low points go to Tomás Saraceno's 2012 metallic jungle gym last year and Pierre Huyghe's overintellectualized yawn featuring removed paving stones and an aquarium. The rule of thumb for a successful rooftop piece seems to be a combination of actively engaging viewers, not just doing something arty that only the art crowd gets (Graham), and looking like you really tried. The Starns' worked because the material, scale, look, and feel of the overall structure was so imaginative; Saraceno flopped because it was just a slick silly playground device for adults.
This time, I left the Met roof with my typical Parker middling admiring reaction — a shrug, but not an annoyed one. Then I decided to circumnavigate the Met and watch Transitional Object in transition. I started on Fifth Avenue, where I couldn't see anything. So I got a hot dog and went into the park looking; I kept walking and looking but didn't see anything until I got to an old favorite spot, Cleopatra's Needle, where I sat and had my hot dog. Maybe it was the Sabrett and the squawking crows. I looked up, and there it was — super-strange, incongruous, stranded in spatial purgatory, seemingly afloat on the Met's roof, phantasmagoric, and scary. Psycho in the city! This uncanny, Oedipal mansion of crazed obsession became part of the skyline, making the Met below seem like a modern ossuary of bodies and bones.
I started thinking about the movie and how Norman Bates used architecture as a desire machine and hideaway, a place of shame, desire — walk-in sarcophagus and live-in nest. Norman's hobby was taxidermy. He mummified his mother, whom he'd killed with her lover ten years before, storing her mummified body in the attic of this house. This house, now the attic of the Met, makes the museum … what, exactly? I didn't know I remembered all that until Parker's strange sculpture told me I knew it.
Then in this strange, strange season of atavism, I let my own gates open. I started thinking about other American males who isolated themselves in their own architectures of sex, shame, and repression. All these architectural islands meant to shelter their psychologically imprisoned inhabitants. I thought of the original Playboy mansion: At the same 1960s time that Psycho was released, Hugh Hefner created his own version of the Bates house in Chicago, the Playboy Mansion, a 70-room Gothic-Tudor that one former Bunny described as smelling of feces, urine, decay. I thought of our own Donald Trump (who grew up in a Bates-like Tudor revival home in Jamaica Estates), the way he bought the rights to beauty pageants like Miss Universe and Miss Teen USA, and his Trump Tower, where he lives and works mostly from his pink-white marbled, mirrored, brass-covered tower. And the sicknesses that breed here. Which made me think of Michael Jackson's Tudor-style Neverland Ranch, where, instead of stuffed birds and a mother in his attic, Jackson had statues of children and named his working train after his mother — Catherine. I thought of Elvis Presley's Graceland — where he buried his parents — its revival style and gabled roof, gaudy mirrored brothel-like architecture. I thought of the secluded Victorian revival home in Silence of the Lambs and its elaborate dungeon-basement where serial killer Jame Gumb kept his victims, including his last would-be quarry, Katherine.
It started to rain. My racing thoughts brought me up short when I remembered that Bernard Herrmann also scored Taxi Driver, and Travis Bickle's quote "Someday a real rain will come and wash all this scum off the streets." I looked at the election headlines of the day and their reports of Trump's talking about grabbing women. It no longer mattered if all this was actually in Parker's sculpture. I decided it was good enough that she could set off this chain reaction of associations. The real world made this so-so sculpture throb with something nicely nerve-racking.