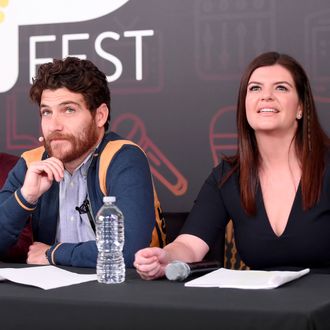 Max! Penny!
Photo: Emma McIntyre/Getty Images for Entertainment Weekly
It's been over three years since Happy Endings aired its final episode on ABC, but that doesn't mean the gang doesn't still live on in our hearts like some fungus Max left growing in his apartment. Since reuniting last spring at Vulture Festival, the cast got back together again at EW's Popfest for a table read of a script that imagines where their characters are now. Eliza Coupe, Adam Pally, Elisha Cuthbert, Damon Wayans Jr., Zachary Knighton, and Casey Wilson read a new script by creator David Caspe in which the gang gets back together after having fallen apart. How did that happen? In the script, Jane and Brad have an epic breakup, which forces everyone to go their separate ways — except for Penny and Max, of course. Per EW, this is what their characters have been up to:
Casey Wilson's Penny has been married several times. Apparently things happened on a Kid Rock cruise.

Eliza Coupe's Jane has moved to Japan where she's a top executive for Toyota overseeing their sex-doll division. 

Damon Wayans Jr.'s Brad is living in the wilderness of Wisconsin where he has a long, blonde beard as the result of getting "Revanant-ed" by bears.

Elisha Cuthbert's Alex is now a baller: Her organic lifestyle brand Xela is now a Fortune 500 company. 

Adam Pally's Max is living in D.C., but no one knows exactly what he does. He's skinny now, because he has "aides" — that is, people to help him lose weight, which is perhaps a play on a joke Pally made at Vulture Festival.

Zachary Knighton's Dave took his food truck Steak Me Home Tonight on the road. 
As for the possibility of seeing Happy Endings on TV again, Caspe said that the situation remains the same: "All of us love it and would totally do it. But unfortunately nobody has stepped up to do it." Aw, not cool, guys!