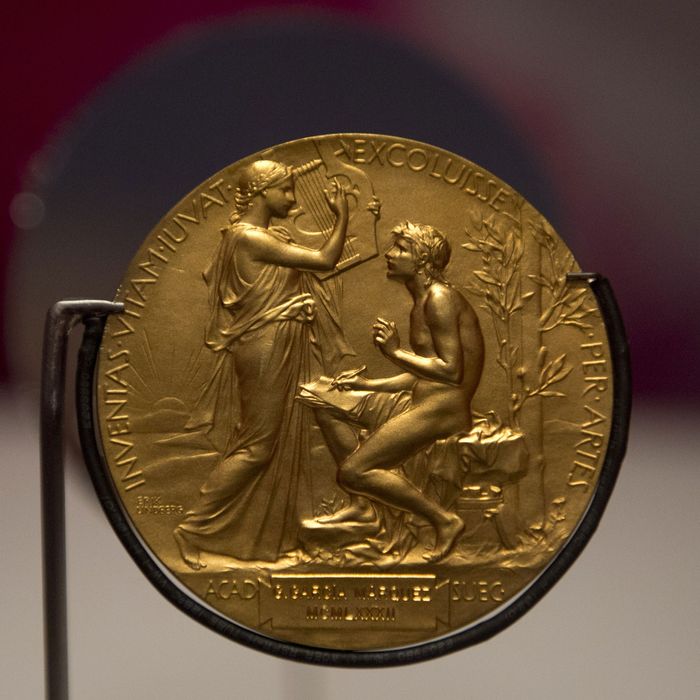 The Nobel Prize gold medal awarded to Colombian writer Gabriel Garcia Marquez is exhibited at the National Library of Colombia in Bogota, on April 17, 2015. One year after the death of Garcia Marquez, an exhibition shows off the writer's personal objects, including the typewriter on which he typed "One Hundred Years of Solitude". AFP PHOTO/Eitan Abramovich (Photo credit should read EITAN ABRAMOVICH/AFP/Getty Images)
Photo: Eitan Abramovich/AFP/Getty Images
The Nobel Prizes are always shrouded in secrecy, the prize for literature, which will be announced tomorrow morning, no less than the rest. But we do know something about the process. An international set of dozens of nominators send their recommendations to the 18-member Swedish Academy, and the academy selects a shortlist of finalists and makes a recommendation for the award to the Nobel Committee for Literature, which makes the final decision. The selection of journalist and oral historian Svetlana Alexievich last year was surprising to many outside Russia, including myself, but she was a Ladbroke's favorite, at least in part because it was public knowledge that she had been nominated by Ural Federal University, in Sverdlovsk Oblast, Russia.
In most cases we have no idea who the nominators are until 50 years after the prize is awarded, when the Nobel Foundation makes the records public. Currently the Nobel foundation describes the nominators as "qualified persons," defined as:
Members of the Swedish Academy and of other academies, institutions, and societies which are similar to it in construction and purpose;
Professors of literature and of linguistics at universities and university colleges;
Previous Nobel laureates in literature;
Presidents of those societies of authors that are representative of the literary production in their respective countries.
Going by this definition we know that in the U.S. and Canada, past winners Alice Munro and Toni Morrison are qualified nominators, as are critics who hold professorships, like Harold Bloom (Yale), James Wood (Harvard), and Michael Wood (Princeton), to name just three. The president of the American Academy of Arts and Letters is a composer, Yehudi Wyner, but its current vice-presidents for literature are the philosopher Kwame Anthony Appiah, the poet Jorie Graham, and the novelist Lorrie Moore. The president of PEN USA is the journalist Andrew Solomon.
Who knows how many of these qualified persons are exercising their privileges? And who knows if they did, whether they'd maintain provincial loyalties to North Americans. In 1965, the last year we can see in the records, Jorge Louis Borges was nominated by the Swedish PEN Club. After T.S. Eliot won the prize in 1948 (his nominator was Justin O'Brien, a professor at Columbia), he nominated six writers over the years: Riccardo Bacchelli (1949), Saint-John Perse (1955, 1958, 1960), Eugenio Montale (1955), Giuseppe Ungaretti (1955), Rudolf Alexander Schröder (1958), George Seferis (1961). Perse, a French poet born in Guadeloupe, won in 1960, and the Greek poet Seferis would win in 1963. Eliot certainly knew no loyalties to his fellow countrymen. Not that Americans or anglophones were going unrewarded at the time. William Faulkner won in 1949, followed by Bertrand Russell (1950), Winston Churchill (1953), Ernest Hemingway (1954), and John Steinbeck (1962). The record shows that W.H. Auden was a frequent finalist, and it's said that he was passed over for his mistranslations of Peace Prize winner Dag Hammerskjöld's journals, and for suggesting publicly that Hammerskjöld was, like Auden, a homosexual.
Combing through the records of Nobel nominations is arcane fun, if also quite sad. So many nominated writers who might have gained immortality! But then again, who reads Saint-John Perse these days? Or even 2008 winner J-M Le Clézio? And quite a few deserving winners unrewarded, Nabokov at the head of the class. Surely many un-garlanded writers comfort themselves knowing that they're in the company of, say, Sherwood Anderson.
What does this tell us about what might happen tomorrow? Whom would Alice Munro nominate? Perhaps the Irish writer William Trevor, one of her acknowledged heroes. Or perhaps Jonathan Franzen, who has obsequiously, if somewhat nonsensically, praised Munro's fiction. We know from Edward P. Jones's interview with the Paris Review that he and Toni Morrison, frequently compared by critics, admire each other's work. Perhaps Morrison is a supporter of her Princeton colleague Joyce Carol Oates. Philip Roth's most eloquent champion is James Wood. Harold Bloom is outspoken in his campaign to canonize Don DeLillo and Cormac McCarthy. From his 1973 review of Gravity's Rainbow on, there's no one better to read on Thomas Pynchon than Michael Wood, a critic of omnivorous brilliance. Jorie Graham could be stumping for John Ashbery. Lorrie Moore can be coy about her influences, at least while they're alive, but she's written in praise of Nicholson Baker and Geoff Dyer, both of whom would be shockers if Stockholm took notice. Perhaps Coetzee might back his pen pal Paul Auster, or fellow (adopted) countryman Gerald Murnane. V.S. Naipaul might be too grumpy and snobbish to nominate anybody. For myself, I've put money on the Albanian Ismail Kadare and DeLillo (at 66 to 1, before he shot up in the odds to 14 to 1). America could use a break this year, but if the prize went to perennial favorites Ngugi wa Thiong'o or the increasingly juvenile Haruki Murakami I would not be surprised. Please, Stockholm, just don't give it to another dull Frenchman.