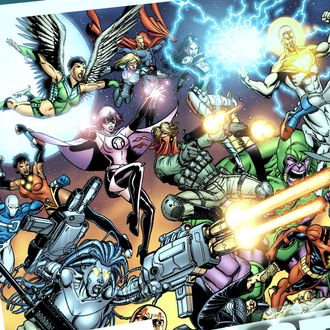 WildStorm is back, baby
Photo: DC Entertainment
Comics Twitter is kinda freaking out right now. Around noon today, ComicBook.com broke the news that DC Entertainment is reviving a brand called WildStorm under the backing of legendary comics writer Warren Ellis. If these proper nouns mean nothing to you, here's a basic primer: Back in the early 1990s, superstar writer-artist Jim Lee joined a bunch of fellow Marvel Comics talents to found a rival company called Image Comics. Each Marvel refugee had his own imprint at Image, in which he could come up with characters and own the rights to them. Lee's two big projects were superhero books called WildC.A.T.S. and Stormwatch.
They puttered along for a few years, but in the final years of the decade, Ellis started writing for them and everything changed. His runs on Stormwatch, The Authority, and Planetary became some of the most critically acclaimed and influential series of the past 30 years and had a huge influence on both comics and, indirectly, movies (The Authority is widely regarded to be one of the stories that most influenced the creation of the Marvel Cinematic Universe). It was bought by DC in 1999. But in 2010, it shut down. Some of its characters were folded into the mainstream DC superhero universe, but they lost a lot of the cachet they once had. So the news about WildStorm's return was a welcome surprise. Here's a taste of the glee:
The idea is that old WildStorm superhero characters like Grifter, Voodoo, the Engineer, and Jenny Sparks will be rebooted and reimagined by Ellis and a team of creators he'll supervise. Additionally, Ellis and artist Jon Davis-Hunt will put out a new series called The Wild Storm, after which other creators will do series including Michael Cray, WildC.A.T.S. and Zealot. The Wild Storm hits stores in February; no word on release dates or creative teams for the rest. The dream of the late '90s and early '00s is alive.