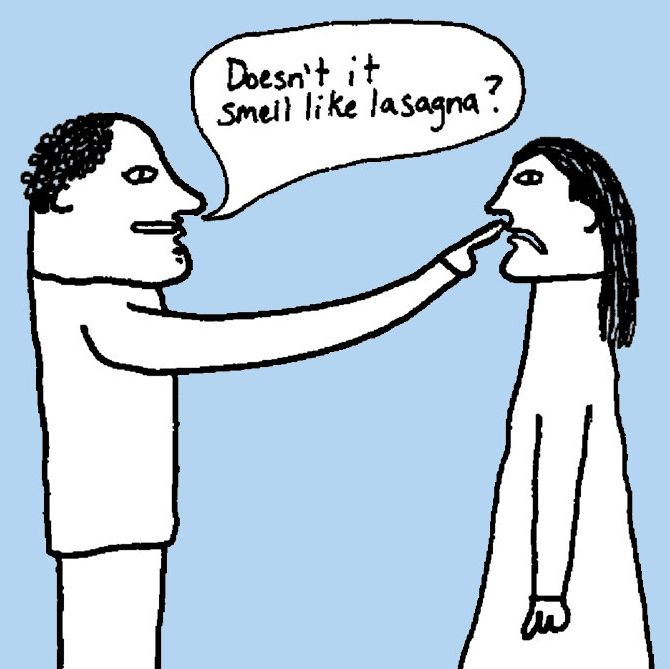 After a beloved run on Saturday Night Live, co-creating the cult comedy MacGruber, a starring role in the Oscar-winning Nebraska, and being The Last Man on Earth, Will Forte's position in comedy's upper echelon seems a given, but it wasn't always. Twenty-two years ago, he was working a dead-end job in the music industry. With no prospects on the horizon, he started doodling. Those doodles would eventually become 101 Things to Definitely Not Do If You Wanna Get a Chick, a collection of drawings that unexpectedly kick-started his comedy career. Today, all these years later, the book is finally available to purchase. And with its release, Vulture has an exclusive excerpt of the book's forward, in which he tells the unlikely story, and four of his 101 doodles. So enjoy, and maybe learn a thing or two about how to behave.
Hi there! My name is Will Forte and I am the person who drew the dumb little cartoons you're about to look at. For those who DO NOT want to hear the story behind the making of them, turn the page now. For those of you who DO want to hear it, read on!
Okay, before I start, I just want to make sure—do you really want to read this foreword? I'm the one writing it, so I cannot vouch for its quality. I can promise that the grammar will be pretty solid and that everything will be spelled correctley (boom). But the information contained within? Unvouchable. So just take one more moment to think this through—just being a friend here—are you absolutely sure you want to read this foreword?
Take your time. I'll just be sitting here. Tell you what, I'll turn around so you don't feel any pressure.
Just gonna give it ten more seconds … 9 … 8 … 7 … 6 … 5 … 4 … 3 … 2 … 1 … okay, I'm turning back around in 3 … 2 … 1 . . .
Oh, hi! You're still here? You want to read the foreword? Great! And, I gotta say, my foreword and I appreciate your support. Okay, let's do this thing!
I (Will Forte) made these cartoons in 1994. At the time, I (Will Forte) was working as an assistant at a music publishing company. My (Will Forte's) job there was—Okay, I'm gonna stop inserting my name in parentheticals, but for the remainder of this foreword, just assume that every time I say "I" or "me," I'm referring to myself, Will Forte. Okay, back in it—let's do this thing! So my job at the music publishing company was to make cassette tapes of various songwriters' songs to send out to various big name singers to see if they'd want to record them. In the mid-1990s, the best audio technology at our disposal was a tape-to-tape machine, which meant putting a cassette tape with music in one side, a blank cassette tape in the other side, and then waiting in real time for the songs to record. If I was dubbing one song, I'd be sitting around for about four minutes. If I was dubbing five songs, I'd be waiting around for about twenty minutes. Needless to say, I would get bored pretty quickly and fill the time with various time-wasting techniques. One day, I (Will Forte) …—Oops, sorry, forgot, see previous, sorry again … –I grabbed a napkin and started doodling a picture of a man holding a dead cat as a frowning woman stood across from him. For some reason, I wrote the caption, "Never Kill a Woman's Pets." Suddenly, it struck me that what at first seemed like a stupid little doodle was actually some rock-solid advice. I mean, there are millions of men out there thinking it might be acceptable to kill a woman's pet and then ask her out on a date. But it's not.
And this was a big moment. This was important stuff. I had found my purpose in life. Will Forte, a single, twenty-four-year-old man, who years later would still be single at forty-six, would give men dating advice.
I quickly came up with the title 101 Things to Definitely Not Do if You Wanna Get a Chick and started furiously doodling away. For the next week, cartoons poured out of me. And then the well dried up. But I only had, like, seventy cartoons. And that was a major problem—I mean, the title of this thing was 101 Things to Definitely Not Do if You Want to Get a Chick. I couldn't change the title. I mean, who changes a title? The only realistic solution was to break my brain coming up with thirty-one more. Sure, the new batch of cartoons might seem too similar to the first batch. Sure, the new batch might be really bad. But there would be 101 of them. And that was important to me. Because who changes a title? Certainly not Will Forte.
Three weeks later, the book was complete. I sent it to a publisher that my father knew. The guy liked the
jokes but felt that the drawings were just too crappy to fly. I thought about sending them to another publisher but then pussed out. A few weeks later, I got accepted into The Groundlings Theater and moved on from cartoonistry.
That was that, right? But a funny thing happened as I started working my way through The Groundlings system. The cartoons changed my life.
I sent them to a college buddy of mine (Matt Rice) who had recently become a literary agent. He started sending them around to people. One of these people was a manager (Julie Darmody) who showed them to a producer (Joel Gallen). And the next thing I knew, I had my first professional writing job for the Jenny McCarthy sketch show on MTV. Once that show was over, the cartoons got me my second writing job at The Late Show with David Letterman. To this day, one of the most exciting things I've ever heard was that my hero, David Letterman, had seen and liked my dumb little cartoon book. And just like that, I was a working writer and it was all because of the cartoons.
The illustrations might look familiar to some of you. From the KFBR392 notebook in "MacGruber" to my sports ball friends in The Last Man on Earth, my drawing style hasn't changed very much. Look, are these things perfect? Absolutely not. Remember, these are basically the first jokes I ever wrote. Just think of them as a snapshot of my brain at the age of twenty-four. If I could go back in time, there are a ton of things I would change. In some of them, I try too hard to be shocking. In some of them, I try too hard to be absurd ("Never Gurd the Blebbner?" WTF?). In some of them, I write past the joke. Some are too offensive. Some too violent. Some just flat out aren't very funny. But some I love with all my heart. I hope you enjoy them. And if you don't, please don't tell me—I'm very fragile!
Love,
Will