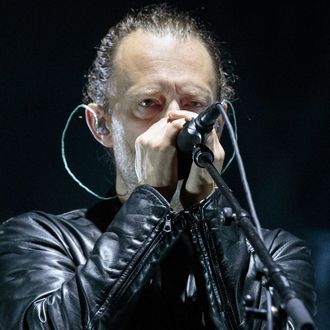 Book your flights now.
Photo: AFP/Getty Images
You can all halt the detective work now because the rumors are true. After a massive crop circle appearing to be Radiohead's old  "modified bear" logo started taking shape on Glastonbury's Worthy Farm yesterday, speculation that the band would headline the festival next year reached an all-time high. Well, guys, it's real: the festival has officially announced that Radiohead will headline Glastonbury 2017 on Friday, June 23, for the first time in 14 years. Radiohead previously headlined in 2003 and 1997, but they haven't performed at England's biggest festival since a surprise gig in 2011. Tickets for the entire festival are already sold out (Daft Punk are also rumored headliners), but if you linger around the local synth shops long enough, maybe, just maybe, you'll score one off Thom Yorke or Jonny Greenwood.