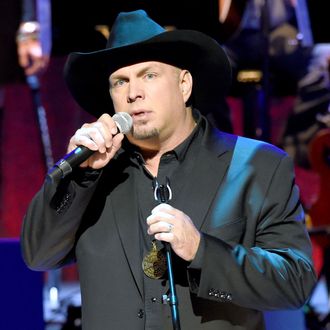 He's got friends in places like Seattle, it seems.
Photo: Rick Diamond/Getty Images for Country Music H
At just one week old, Amazon's new music-streaming service is already playing with the big boys: Billboard reports that Garth Brooks has ended his ban on streaming to sign an exclusive deal with Amazon Music Unlimited, where you can now stream a portion of Brooks's prolific catalogue for the first time ever. Following the Taylor Swift guide to streaming, Brooks has granted only Amazon the rights to stream his music, explaining that he turned down both Spotify and Apple because they wouldn't let him call the shots. ("I think it comes down to egos on both sides," he says.) Brooks had previously ignored iTunes for so long over his refusal to make songs individually downloadable, that, for the last two years, his music has only been digitally available via his own service, GhostTunes. With Amazon, that changes: Brooks says he'll be done with GhostTunes by the beginning of 2017, and his music will exclusively be Amazon's to stream and download (though still only as complete albums). 
For now, 2007's Ultimate Hits and 1998's Double Live are the only albums available. His next album, Gunslinger, and upcoming holiday album with wife Trisha Yearwood will also come to Amazon upon their releases. Then, once a box-set deal with Target is completed, Brooks's entire multi-diamond catalogue will be up on Amazon, unless of course Garth changes his mind. As he's especially quick to note, "It's not a long-term deal, so it kind of allows you to enter as a partnership, look at each other quickly and go, 'Hey, do we want to continue this or not.' That's a sweet, sweet option to have." Why yes, we've heard that's how power tastes.