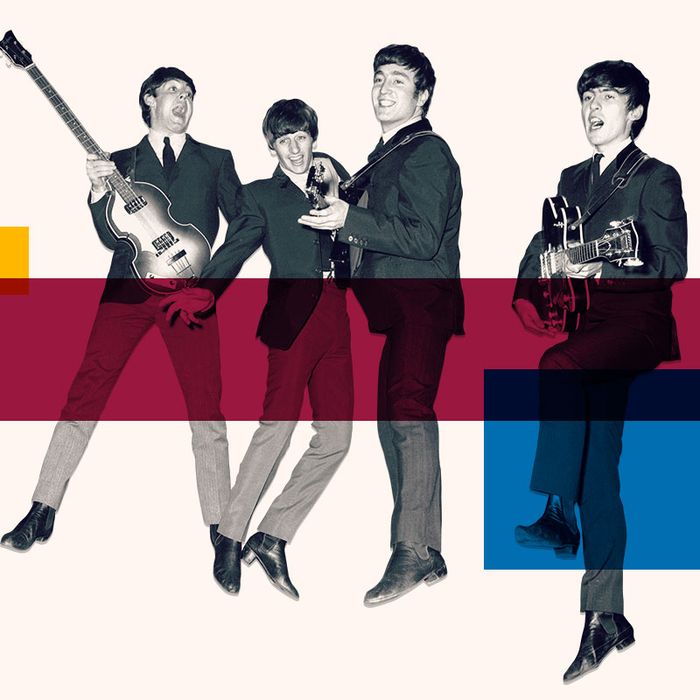 Illustration: Maya Robinson/Vulture and Photos by Getty Images
This week, Vulture is taking a look at great unproduced, unreleased, or unheralded entertainment.
A convicted debater could plausibly make the case that the Beatles aren't the best rock band ever. What no one could reasonably argue, however, is that any other rock band has had its existence more closely dissected and analyzed. There are books — thick ones — devoted to tracking each day in the band's brief existence, and the band's recording archives have been almost as exhaustively picked over. In the decades since the band's demise, Beatlemaniacs have been given three Anthology sets, two BBC albums, Let It Be alternate versions, and a Hollywood Bowl live album.
Yet amazingly, there are still great Beatles songs that haven't been officially released. Here are 15 of them, ranging from the Fab Four's earliest days to their final months as a group.
1. "Bad to Me" (1963)
A puppyish mid-tempo number written for Billy J. Kramer and the Dakotas, who released their own version, also in 1963.
2. "Because I Know You Love Me So" (1969)
Also sometimes referred to as "Wake Me Up in the Morning," this song was recorded during the Let It Be era, and it's a groovy, laid-back performance, with the shaggy charm of officially released recordings like "Why Don't We Do It in the Road?" and "For You Blue."
3. "Black Dog Blues" (1969)
A mostly acoustic blues number, sung by John with affecting world-weariness during the Let It Be sessions.
4. "A Case of the Blues" (1968)
A vocal-and-acoustic performance by John, recorded as a demo in late 1968. The sly, sighing melody might remind you of the bleary Lennon classics "I'm So Tired" and "Cry Baby Cry" — songs that folks such as Kurt Cobain and Daniel Johnston listened to closely.  
5. "Child of Nature" (1968)
Lennon later redeployed this song's lilting melody for "Jealous Guy" from 1971's Imagine. Presented here in a stripped-down voice-and-acoustic-guitar version, the song is more cosmic than its later angsty incarnation, with lyrical references to the Beatles' 1968 trip to visit Maharishi Mahesh Yogi in Rishikesh, India.
6. "Circles" (1968)
George had a knack for haunting, spiritual melodies. This song, the demo of which sees the quiet Beatle singing while accompanied only by his own organ, is a close cousin to the likes of "Long, Long, Long." The lyrical subject is reincarnation, which was heavy on Harrison's metaphysically inclined mind back in those days.  
7. "Goodbye" (1969)
Originally written by Paul McCartney for Welsh pop singer Mary Hopkin, this is a gentle, bittersweet ditty in the "Mother Nature's Son"/"I Will" vein. Paul recorded it alone on acoustic guitar as a demo for Hopkins in 1969. 
8. "Love of the Loved" (1962)
Cut as part of an audition for Decca records (which infamously passed on signing the band), here's a brisk and moody tune sung by Paul — with a nice jittery guitar tag — that one could imagine having really soared in the hands of Roy Orbison or Elvis.
9. "The Maharishi Song" (1968)
John at his acerbic best: "The Maharishi Song" is a talking blues about the strange and ultimately disappointing experience of hanging out with meditation guru Maharishi Mahesh Yogi. Consider it a companion to Lennon's tweak of born-again Bob Dylan on the song "Serve Yourself."
10. "One and One Is Two" (1964)
Around 1964, Paul McCartney was apparently as liable to churn out a catchy folk-rock song like "One and One Is Two" as he was to breathe. A South African group called the Strangers with Mike Shannon released a faster and inferior version the same year Paul recorded this demo.
11. "The Palace of the King of the Birds" (1969)
Part of the appeal here is how much this Beatles outtake doesn't immediately sound like the Beatles. It's an instrumental jam from around the time of Let It Be, and mildly reminiscent of the wordless psychedelia of "Flying" from 1967's Magical Mystery Tour. The Beatles weren't technical virtuosos, but each instrumental element here is so beautifully considered, from the drifting bass (played either by Paul or John, it's unknown), to Ringo's shimmering cymbals, to George's twinkling guitar. It's all very turn-off-your-mind-relax-and-float-downstream.
12. "September in the Rain" (1962)
Another fine early McCartney vocal performance, also recorded as part of the Decca audition. This strutting piece of romantic defiance features Pete Best rather than Ringo on drums.
13. "Sour Milk Sea" (1968)
More George. Rather than focus on Eastern-inspired soul-searching, Harrison went fairly straightforward here, with a mid-tempo rocker that would've fit snugly on, say, Revolver. "Sour Milk Sea" was eventually recorded and released by Beatles acquaintance Jackie Lomax.
14. "Watching Rainbows" (1969)
Another playful, jammy track from the Let It Be sessions, "Watching Rainbows" would eventually mutate into the final album's "I've Got a Feeling." John's lyrics sound improvised, which would account for the offhand reference to "I Am the Walrus."
15. "World Without Love" (1963)
In 1964, Peter and Gordon recorded their own version of this plaintive gem, written by Paul. John was allegedly a fan of the first line, "Please lock me away," which seems very him.