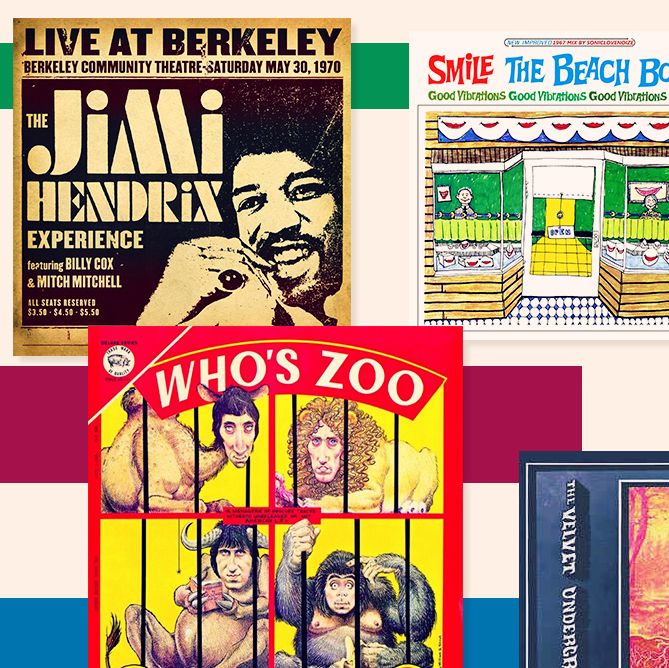 Photo-Illustration: Vulture
This week, Vulture is taking a look at great unproduced, unreleased, or unheralded entertainment.
In 1994, British rock writer Clinton Heylin published Bootleg: The Secret History of the Other Recording Industry, an entertaining history of the illicit form. Tracing the line from the emergence, in 1969, of a bunch of home and live tapes of Bob Dylan, sold in a plain white sleeve rubber-stamped with the title Great White Wonder, on through the likes of Prince's Black Album ("probably the best-selling bootleg of all time," wrote Heylin) and then-superstars R.E.M. and U2, Heylin paints an amusing portrait of bootlegging's squirrelly practitioners: "Bootlegging, by its very nature, qualifies as disorganized crime … there was never a conspiracy, or a 'Mr. Big,' just people operating in the twilight zone of insatiable demand for a lot of pleasure and a modicum of profit." He quotes bootlegger Lou Cohan: "The figure they gave at the time of my 1976 bust, like they confiscated 250 million dollars' worth of bootlegs, is totally ridiculous. I was manufacturing 2,500, 3,500, at the most 4,000 of a particular bootleg of a particular artist and selling them wholesale … at the most for $1.50 each."
But even as Heylin's book was coming out, its subtitle was already becoming outdated: Starting in the the late '80s and accelerating into the '90s, the cornucopia of CD reissues and box sets pioneered by labels like Rhino were powered as much by rarities and outtakes as cleaned-up versions of old albums and singles: The 1984 Elvis Presley six-LP Elvis — A Golden Celebration was heavy on previously unreleased material, as was Bob Dylan's three-CD Biograph a year later. It's no coincidence that Presley and Dylan are two of the most heavily booted artists of all time, with a plethora of unreleased studio sessions as well as widely traded live shows. Today, Presley's vaults have been thoroughly exhumed by RCA, including plenty of material aimed straight at the collectors who eat up bootlegs. And of course, Dylan's originally unreleased back pages have been part of the official public record since 1975, when he and the Band's Basement Tapes first saw legal light as a two-LP set.
Today, the very idea of a bootleg — outtakes and live recordings on typically shoddy pressings that cost, in many cases, twice the price of a regular album — has long been quaint in an era where so much is available for free online, "official" or not. Here are 25 notable boots from the LP and CD eras, in chronological order.
Bob Dylan and the Band, The Complete Basement Tapes (1967)
Garry Freeman's 768-page The Bootleg Guide (2003) has 48 pages on Dylan alone, and it was his demos, live shows, and outtakes that formed the backbone of the nascent bootleg biz. Over months of loose jamming in three different houses — notably "Big Pink," where some members of the Band lived — they created something both tough and evanescent, captured haphazardly on reel-to-reel. The output moved from fall-down silliness ("I'm Your Teenage Prayer") to the most doleful Americana ("Tears of Rage"), but as a whole it served as a convincing argument that lo-fi mystery sometimes beats hi-fi precision. In 1975, The Basement Tapes was released as a double LP; in 2014, Columbia/Legacy released "EVERYTHING recorded in that basement," per the producer's note.
The Beach Boys, Smile (1967)
Rock's first Great Lost Masterpiece: Brian Wilson's impossibly daft, deft, sweet, silly, and cosmic testament to pop Americana, put together with miles of spliced tape and acres of vocal-harmony overdubs by an increasingly antsy Beach Boys. Or rather, those things weren't put together: Wilson couldn't bring himself to finish the album, leaving it to the bootleggers who, by the CD era, had found and issued damn near everything he'd cut. A satisfying half-hour version of the Smile sessions showed up on the 1993 box set Good Vibrations, and Wilson's solo version appeared to major acclaim in 2004, but Capitol finally issued the five-disc Smile Sessions for real in 2011.
The Beatles, The Get Back Journals I & II (rec. 1969)
Attempting to become a real group again after the fractious sessions a year earlier for The Beatles (a.k.a. the White Album), the Beatles began rehearsing, with a film crew in tow, and trying everything from old rock and roll to new numbers such as Paul McCartney's piano boogie "Get Back." The sessions were recorded in full, and they were even tenser than the White Album's.
"I had thought it would be good to let the shitty version out because it would break the Beatles, break the myth," John Lennon told Rolling Stone in 1971, calling it "the shittiest load of badly recorded shit, with a lousy feeling toward it, ever." Phil Spector's cleaned-up versions became Let It Be in 1970 (and rawer versions became Let It Be … Naked in 2003), but these two eight-CD sets offer a far more complete picture.
The Velvet Underground, Live at the End of Cole Ave. (Dallas, October 19, 1969)
One of the most widely circulated live Velvets bootlegs is also one of the loosest and most pleasurable — not to mention one of the better-sounding, as it was recorded by a professional engineer (for personal use, with the band's permission). Several of these cuts, along with some from San Francisco's Matrix, were officially issued on the fabulous 1969 Velvet Underground Live double LP in 1974.
The Rolling Stones, Live'r Than You'll Ever Be (Oakland Coliseum, November 9, 1969)
This is generally considered the first-ever live rock bootleg — recorded professionally for later radio broadcast, it was on the market, in a stamped white sleeve, within a month of the show. "The way to kill the new live Stones album would be to release a similar LP that was even better," Greil Marcus noted in Rolling Stone; the band issued Get Yer Ya-Ya's Out! from the same tour, a few months later. Marcus, among others, still prefers Live'r.
The Troggs, The Troggs Tape (rec. 1970)
Not music at all — instead, this is a legendary inter-band fight, captured on tape, as the band most famous for "Wild Thing" went into a studio without having rehearsed the single it was cutting. That's when the bickering begins, for 12 spellbinding minutes: "It's a fucking number one! It is!" snarls singer Reg Presley, who adds: "But it fucking well won't be unless we spend a little bit of fucking thought and imagination to make it fucking number one!" Oasis's Wibbling Wivalry, a bootleg CD of a similar Noel and Liam Gallagher argument that surfaced in 1995, recapitulated The Troggs Tape in much the way Oasis's music did the Beatles'. The Troggs Tape became part of a three-CD overview, Archaeology (1966–1976), which Fontana issued in 1992.
The Jimi Hendrix Experience, Live at Berkeley (May 30, 1970)
Hendrix's final band commingled the best parts of his previous two: drummer Mitch Mitchell of the Experience was a wild man, while bassist Billy Cox of Band of Gypsys was steady as a rock. Their Berkeley Community Center performance, less than four months before Hendrix's death, has a relaxed power, and because it was filmed for a documentary (and recorded well), it became widely bootlegged. MCA finished its fabulous (and sadly out of print) Blues compilation with the searing "Hear My Train a-Comin'" from the show, but in 2003 they put the whole thing out.
Van Morrison, Van the Man (1971)
This single-LP omnibus, recorded in San Francisco and New York in 1970–71, is as good an album as anything Morrison released in this period — and all he released in this period were classics. "Friday's Child" finds Morrison and his infinitely flexible band in full, glorious flight, and the gentle pulse of the 16-minute "Caledonia Soul Music" has been a post-election balm.
The Grateful Dead, Old Renaissance Faire, Veneta, Oregon (August 27, 1972)
"The Last Acid Test," as Grateful Dead archivist Nicholas Meriwether dubbed this legendary show, was deemed by the Dead faithful to be the band's greatest night-on-tape ever. Sweltering in the outdoor heat in front of 20,000 freaks (many naked, many tripping — mushrooms bloomed in the area), all to save the creamery of Ken Kesey's family, the Dead couldn't have found a more hospitable environment. Playing it nice and easy so as not to overheat, the band goes far out as ever on a majestic "Dark Star" but floats back to earth by falling into a Bob Weir–sung cover of Marty Robbins's "El Paso" — a transition that defines the Dead. (Listen at the Internet Archive.)
The Who, Who's Zoo (1974)
A handsome two-LP set covering material from 1964 to 1971, Who's Zoo appeared on Trade Mark of Quality (TMOQ), one of the 70s' snazzier labels, notable for its playful, high-quality artwork. In this case, the cover was a rendering of the band as a box of animal crackers — as iconic an image among hardcore Who-vians as anything involving a Union Jack.
Patti Smith, Teenage Perversity and Ships in the Night (The Roxy, Los Angeles, January 30, 1976)
Patti's incantatory live sets made her legend long before — and after — her recordings. This L.A. set — hot on the heels of Horses, issued six weeks earlier — features cameos by John Cale (on "My Generation") and Iggy Pop (a spoken intro) and is widely considered the definitive early live document. (It was issued under several names, among them Canine Teardrop.)
David Bowie, Nassau Coliseum, Uniondale (March 23, 1976)
Bowie's live shows and studio sessions have been heavily scrutinized; of the latter, the "Leon" suites, an odd hourlong piece that would form the backbone of 1995's Outside, has long been a fan favorite. But Chris O'Leary, author of the definitive Bowie study Rebel Rebel, (and the Bowiesongs blog it expands upon), points to the Nassau County stop of the Station to Station tour as the ultimate live boot, a show that earned raves from Robert Christgau in the Village Voice: "The most powerful and innovative arena-scale hard rock since the '73 Stones." The full show is included on Station to Station's deluxe reissue, from 2010.
Buzzcocks, Time's Up (1978)
The first time in the recording studio by Manchester's first punk band — the only one with the original co-leaders Howard Devoto (who soon left to form Magazine) and Pete Shelley — yielded first the definitive four-song Spiral Scratch EP, released in February 1977 on the band's own New Hormones label. Then, when that went out of print, this bootleg of the entire session began circulating. (Best label name for one of the many versions: Hugh Normones.) Many punk fans simply treated it like an official LP; in 1991 it became one thanks to aboveboard CD releases by the U.K. label Document and, more recently, Mute.
Elvis Costello, Live at the El Mocambo (March 6, 1978)
A good number of live shows were released as promo-only LPs, sent to radio stations as exclusives, and few were subsequently bootlegged as much as this 50-minute scorcher: Elvis and the Attractions burning a hole through material that already roared on his first two albums. In 1993, Rykodisc issued the show alongside Costello's first three albums as part of the box set 2½ Years; in 2009, Hip-O Select released the show as a stand-alone CD.
Television, Arrow (My Father's Place, Roslyn, Long Island, March 20, 1978)
Television's pair of '70s albums are neat with wildness at the edges, but live is where they got loose. This Long Island gig was recorded by a fan and pressed up a couple years later as Arrow, then given over to the (then-) cassette-only label ROIR. The latter expanded the seven-song LP into a 14-song cassette (then CD, and now stream) titled The Blow Up, as the bootlegger himself explains in this illuminating blog post:
"Whenever our little project is mentioned, there's always a disclaimer that the original vinyl boot sounds better than the Blow Up reissue. Well, we tried. Disc mastering was done at an upper crust Hollywood establishment when Lindsey Buckingham had finally run out of coke and gone home for the day …" As for the fifteen-minute "Little Johnny Jewel," "hair-rising" doesn't cover it. (And no, the blog post's download link doesn't work anymore.)
Bruce Springsteen, The Agora, Cleveland (August 9, 1978)
Simulcast throughout the Midwest, this show at a 1,000-person hall was played for the tenth anniversary of Cleveland rock-radio giant WMMS. Bruce was arguably at his performing zenith in '78, and this set, heavy on Born to Run and the brand-new Darkness on the Edge of Town, is the full extravaganza in action: "Summertime Blues" opener and "Twist and Shout" closer, and a couple of hits he'd written for others: the Pointer Sisters' "Fire" and the Patti Smith collaboration "Because the Night."
"You want an autograph?" Bruce asked an excited fan at one point. "I'm working here!" No fooling.
Joy Division, Peel Sessions (1979)
The bottomless echo of Martin Hannett's production served the dark vortex of Manchester's most arresting postpunk band beautifully, but many fans prefer their Joy Division served raw. For good reason: The eight songs Joy Division cut on January 31 and November 26, 1979 for BBC Radio 1 legend John Peel's show — which first made their way to vinyl on Shadowplay, issued by the incongruously named Amazing Daffy Disc — have a nervy charge even the official versions miss, especially a "Love Will Tear Us Apart" that leaves behind the classic single's mysterious aura in favor of snarl. The Peel Sessions have been reissued officially numerous times; you can hear them here.
Elvis Presley, Elvis's Greatest Shit!! (1982)
Elvis Presley's vaults have been definitively plundered, thanks to RCA's assiduous series of reissues, compilations, and box sets, which reached their official end earlier this year with Way Down in the Jungle Room, his final recordings from 1976. This 1982 collection of soundtrack cuts and outtakes is their seedy underbelly, from the name of the label (Dog Vomit) to the contents, some of Presley's worst music ("Yoga Is As Yoga Does," "Queenie Wahine's Papaya," the inevitable "Do the Clam") alongside outtakes such as the Big E fluffing "Can't Help Falling in Love" and then emitting: "Ah, shiiiiiiit!"
Frank Zappa, Mystery Box (1986)
Ten-LP bootleg boxes sure were popular in the mid-'80s. One was Dylan's Ten of Swords, which was the clear prompt for Columbia to issue the first, three-CD Bootleg Series collection five years later. Another was Mystery Box, a Frank Zappa cavalcade that featured everything from pieces recorded at St. Mary's College in Claremont, California, to performances on Mike Douglas and SNL to loads of live dates. Zappa, who despised bootlegs, combatted them himself in 1991 with Beat the Boots, a box that re-bootlegged existing bootlegs, artwork and all. Everyone still preferred Mystery Box.
Prince, The Black Album (1987)
In 1987, Prince intended to drop a Christmas surprise: no title, black cover, no announcement (the artist credited in the Warner Bros. release schedule as "Somebody"), just eight songs that led off with a buried boast: "Welcome to the Funk Bible." The, at the beginning of December, Prince had a crisis of faith, allegedly brought on by being slipped a dose of Ecstasy. "I suddenly realized that we can die at any moment," he later told an interviewer. "And we'd be judged by the last thing we left behind. I didn't want that angry bitter thing to be the last thing." So he had Warner Bros. destroy 500,000 already pressed copies — but not the hundred or so promos that had already gone out.
Prince outtakes and live shows were already being heavily traded before The Black Album's subterranean emergence, but it would become likely the most popular and bestselling boot of all time in the years before, in his quest to fulfill his Warner contract, Prince allowed it to have a limited edition CD pressing in 1994. A website is devoted to The Black Album's tangled history, but rather than pay $15,000 for an original pressing (as someone did in April), you can stream it on Tidal now.
Led Zeppelin, Studio Daze (1990)
The late '80s saw a jump in available unissued Led Zeppelin material after Jimmy Page's personal cache of Zep outtakes was stolen from him and then trickled onto the bootleg market. This is one of the earliest and best-loved CD boots, sourced from sessions between 1970 and 1978 and featuring illuminating alternate versions of "Since I've Been Loving You," "No Quarter," and "All My Love."
Jungle Brothers, Crazy Wisdom Masters (1992)
The third Jungle Brothers album was a fraught affair. Co-produced by Bill Laswell, Crazy Wisdom Masters was poised to one-up the sample-rich earlier work of the group and their fellow Native Tongues De La Soul and A Tribe Called Quest — the J.B.s were going baroque rather than austere. But there were issues with both the music, which the label wasn't happy with, and the tapes themselves: "A lot of the songs on that are lost," Mike G told an interviewer. "We were mixing down that album and mysteriously the reels were just gone. A couple of months of work down the drain."
By the time it appeared in 1993, the album had a new title, J. Beez wit the Remedy, and sounded entirely different: Laswell's mixes had been discarded. (Compare the dense original Crazy Wisdom Masters version of "Simple as That" with the sparer one from J. Beez.) Six years later, a handful of tracks appeared as The Payback, a 10-inch EP on Brooklyn's Wordsound label, credited to Crazy Wisdom Masters.
Aphex Twin, Caustic Window (1994)
How prolific was Richard D. James — a.k.a. Aphex Twin, AFX, Polygon Window, and a dozen more — in the '90s? Shortly after he released 2014's Grammy-winning Syro, he dumped nearly 200 unreleased tracks from the '90s onto a SoundCloud account belonging to one "user48736353001" (there are only seven there now). That's on top of — well, you can look at his producer credits on Discogs for yourself. And on top of that, there was the "lost" 1994 album called — or by; it's another alias — Caustic Window that had existed solely in a handful of test pressings. In April 2014 — a few months before Syro was announced — a copy surfaced on Discogs and fetched over $13,500; a second copy fetched another five figures on eBay shortly afterward. A Kickstarter campaign for a limited release of the album raised more than $67,000 from over 4,000 backers. But, of course, you can just listen to it on YouTube now.
Neil Young, Rock 'n' Roll Cowboy (1994)
Somehow Neil Young managed not to put out a box set in the '90s, making him nearly the only musician on a major label not to do so. So the Italian bootleggers Great Dane did it for him — namely, this handsomely packaged overview of Young's entire career, from an early Buffalo Springfield performance at a (terrible-sounding) high-school gymnasium in 1966 to his Academy Awards–show performance of "Philadelphia," in 1994. Mixing and matching classics and obscurities (rarely played fan faves like "Sweet Joni" and "Stringman"), showcasing all of his bands and the full range of his work, it's the most satisfying Neil Young overview extant.
Danger Mouse, The Grey Album (2004)
After Napster, bootlegging was no longer a real industry — who'd pay double the price of a regular album for one when increasingly few were willing to pay regular price for a regular album? Instead, the term "bootleg" took on a new meaning: tracks stitched together from two parts of often very different songs, typically the vocals of one record over the music of another. The period's best-known recording, Danger Mouse's Grey Album, combines Jay Z's Black Album vocals with music gleaned from the Beatles' White Album. CDs certainly existed: I'm one of many journalists who was mailed a promo copy. But far more people downloaded it — many of them on "Grey Tuesday," February 24, 2004, when dozens of blogs offered it to protest a copyright-violation cease-and-desist from EMI, which controls the Beatles' recordings (or did, anyway).