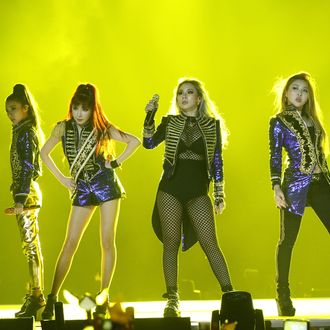 All the feels.
Photo: ChinaFotoPress/VCG via Getty Images
Last Friday, Blackjacks worldwide endured the collective sting of a breakup when it was announced that K-pop girl-group empire 2NE1 were disbanding, effective immediately, after seven years. Most saw the news coming — breakout star CL has been gearing up for solo fame for quite some time — but it wasn't enough to soften the blow. Fans were especially shocked to learn that the group would leave without releasing their rumored farewell album; their last project with all four members (Minzy formally left the group earlier this year) came back in 2014. According to a new update, though, a final album was indeed in the works before their overlords, YG Entertainment, put the kibosh on the whole thing. In an apology letter to fans, CL writes, "We all really tried to make things work. I left everything behind and was in Korea all summer working on our album, but it fell apart … tough times."
In a separate note, 2NE1's Dara also addressed the breakup, calling the news "very painful to all of us." Because baby, now we're all so lonely, lonely, lonely, lonely without them.