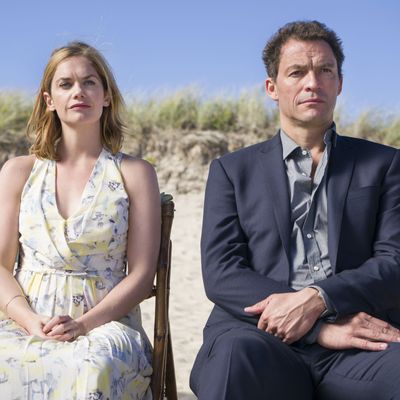 Ruth Wilson as Alison, Dominic West as Noah.
Photo: Mark Schafer/SHOWTIME
The third season of The Affair begins this Sunday on Showtime. It's been nearly a year since season two ended and — understatement alert! — a lot has happened in the world since then. It's understandable if some of the information you once knew about Noah Solloway and Alison Bailey has been pushed out of your brain by other concerns.
The following primer focuses on key details from season two, including the circumstances surrounding the death of Scotty Lockhart. So refresh your memory before you plunge into season three, then prepare to sink back into the ocean. If you're still binging on season two, be advised: There are lots of spoilers ahead. And please feel free to revisit Angelica Jade Bastién's recaps of season two for further clarity and/or reasons to be annoyed by Noah.
1. Who killed Scotty Lockhart?
The whole of season two focused on this question, and the finale finally gave us the answer: Everybody, kind of? On the night of Cole's wedding to Luisa, Noah (Dominic West) and Helen (Maura Tierney) got a little tipsy and went for a drive. Helen was behind the wheel when their car struck Scotty, who was standing in the middle of a Montauk road. So his death is Helen's fault. But we also saw Alison (Ruth Wilson) push Scotty into the road following a confrontation between the two of them. So it's also Alison's fault. And Noah not only allowed Helen to drive that night, he placed his hand over hers before the fateful collision, arguably distracting her at a crucial moment. So, in a less direct way, it's Noah's fault, too.
2. Noah confessed to killing Scotty in court.
In the finale, Noah confessed to committing manslaughter, putting an end to the trial that wound throughout season two, while also taking responsibility for the hurt and pain he had caused both Helen and Alison. We didn't see his sentencing, but it is fair to assume that Noah will be doing some jail time.
3. The father of Alison's daughter, Joanie, once believed to be Noah, is actually Cole.
Joanie's parentage was confirmed in season two, and it was held over Alison's head by Scotty, who tried to use it as leverage in his disagreement with Alison and Cole (Joshua Jackson) over who should run the Lobster Roll. As a result of Scotty's increasing agitation over the situation, he confronted Alison and tried to physically assault her, which is what led her to shove him into the street and into oncoming Solloways. (Helen does not know about the shoving, but Noah does.) The fact that Cole is Joanie's father is doubly heartbreaking since Alison and Cole's marriage dissolved largely because of their grief over the loss of their son, Gabriel.
4. Cole and his new wife, Luisa (Catalina Sandino Moreno), cannot have children.
In episode nine of season two, Luisa told Cole that she is infertile. So make that heartbreak a triple.
5. Helen started dating a doctor named Vik.
Helen first met Vik Ullah (Omar Metwally) when he performed surgery on Martin, her and Noah's son, to alleviate his stomach problems. But Helen ran into Vik again when a Tinder date went awry. Expect him to resurface in season three.
6. Don't forget about the sex/rape scene at the yoga retreat.
In episode six of last season, Noah visited Alison at a yoga retreat, threw her up against a tree, and had sex with her. Some viewers questioned whether it was meant to be rough sex or an actual rape. Showrunner Sarah Treem didn't initially aim for such uncertainty, but as she explained last November, "In the way that the sex scene ended up getting shot, I think that her complicity is less obvious and that she herself is more ambivalent about what's happening, and doesn't necessarily want it to be happening. So honestly, it did turn into something that looked more like a rape." The ambiguity of that encounter, and of sex in general, will be revisited in season three.
7. Descent, the novel based on Noah's relationship with Alison, was a huge success.
A lot of season two focused on Noah's ascent within the literary world as a result of the popularity of his novel. The book will pop up again in season three, as will its related subtext about the ways in which reality and fiction intertwine and play tricks on our memories.
8. The Solloway children are super annoying.
They're all brats and Whitney is just the worst. But you probably didn't need to be reminded of that.