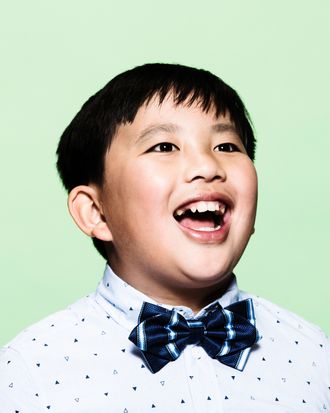 Photo: RAMONA ROSALES/Vulture
Albert Tsai walks into a Culver City Café near Sony Studios where his show Dr. Ken tapes, sit downs, and orders a hot chocolate. When the drink arrives, the 12-year-old sitcom star stops mid-sentence: "Hot chocolate in a glass? This is a first. Doesn't it usually come in like a mug?" He picks it up and takes a sip. "I guess they want to make it look more, more what I don't know. I don't know why it's like this." Does it taste alright? "Yes, yes, it does," he says. "Let's just keep going."
Tsai is eager to talk. The young actor, who first gained attention for his role on ABC's Trophy Wife, has a new episode of Dr. Ken airing tonight (a crossover with Shark Tank) and recently guest starred on Crazy Ex-Girlfriend.  Earlier this year, Albert was nominated for a Young Artist Award for best supporting actor for his role as Ken Jeong's son Dave on Dr. Ken, a job he landed when he was 10 without an audition. Jeong and Albert had appeared on a live episode of Hot in Cleveland together, and Jeong wrote the part of Dave with Albert in mind.
"It was really based on me working with Albert at the time and how funny he was at the Hot in Cleveland taping, and also being big fans of his in general from Trophy Wife," Jeong told Vulture. "He gets the joke. Understanding the comedy of the scenes and understanding the tone of the scene comes innately to him. He has a unique ability to know if the scene is going to be more grounded or lighter in tone. That gift is innate. You can't teach that."
"He was a real home run," says Crazy Ex-Girlfriend co-creator and star Rachel Bloom, who hired Albert to play Rebecca's ping-pong instructor. "He was so funny. Really, really down to improvise. Sometimes with kids who've been acting, you get this feeling that, Oh are they getting to also be a kid?, but he doesn't have that vibe. He's incredibly smart and wise beyond his years."
Tsai, whose parents are from Taiwan, speaks fluent Mandarin and lives in the Bay Area. When Dr. Ken is in production, the family stays in Los Angeles, and Tsai attends an online school. The young star spoke to Vulture about learning to play ping-pong for his Crazy Ex-Girlfriend role, falling asleep in front of the camera, and his already very busy sitcom career.
Congratulations on the second season of Dr. Ken. Let's talk first of your recent guest-star role on Crazy Ex Girlfriend. You nailed it as Rebecca's (Rachel Bloom) ping-pong instructor. How did you get that job?
Basically, the role came up and I just auditioned for it. And then I got it and it was a perfect fit with my schedule because it was the week before Dr. Ken started.
Do you watch that show? Why did you want this role?
I hadn't watched the first season. But it looks pretty good and I think I'll watch it. And I just wanted to be on the show and it was cool role. I got to learn ping-pong. So, why not? I actually had to learn ping-pong because Rachel didn't have to be good at it because her character wasn't good at it but I had to be like the expert at ping-pong, so they actually hired a ping-pong teacher.
There's one scene where it was at the end of the day — everyone was tired, the balls went everywhere, got logged in the camera, hit a crew member in the chest. It got a little crazy because we were both just hitting them. I forgot if that was actually supposed to be a part of the script. I had done fine in the practice, but then she had to do these weird things because she was supposed to be doing it wrong. For half of them she didn't actually hit it but she hit one back at me and I was like, AHHH! That went flying too.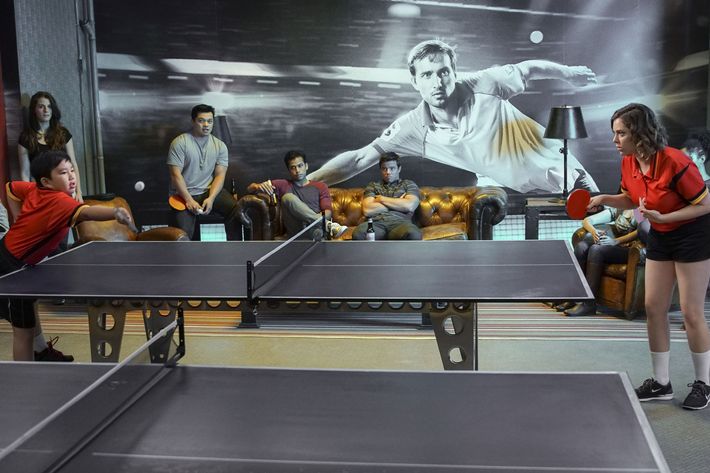 How's season two of Dr. Ken going?
It's great. We have the Shark Tank episode coming up and that's super-exciting. My character goes on Shark Tank.
How does Dave end up on Shark Tank?
So Dave makes up this product, which is basically a blanket with two holes cut out, and it's called the Hot Legs Duvet. You know how when you're just sitting in bed like reading or watching TV? And your legs get too hot? And you just hang them out of the covers? Well, no need for that anymore. You just poke them through the holes.
That's not a bad idea, actually.
I mean, perhaps it's not a bad idea but I don't know about investable.
Like you could just do it at home, right? Cut a couple of holes in your blanket and call it a day.
What would you even do with the $50,000 that the shark gives you or whatever for a company like that?
Did you film with the real sharks?
We filmed on their set. And it was massive, by the way. Like the hallway and everything. And then the five sharks. We filmed with [Mark Cuban, Lori Greiner, Robert Herjavec, Kevin O'Leary, and Daymond John].
Did it really feel like you were on Shark Tank?
Yes, it did, but here's a little fun fact for you: I was the quickest person to ever walk down that hallway because normally the entrepreneurs are like, according to the stage manager, sulking and stuff because they're nervous, but since mine was scripted, I didn't worry about that and I just walked out there. So the stage manager was like, Okay, small doors, because he has to cue the crew to open the doors and then he was like, Okay, he's walking fast. Big doors, big doors, big doors.
What can you say about how it goes for Dave without spoiling it for viewers?
Let's just say the response from the sharks is appropriate to the product. Let's leave it at that. [Laughs.]
So Dave might need a new career?
Yeah, maybe something else. But he's really happy that he even got on Shark Tank.
How's Dave in season two different from season one? What's going on with your character?
Well, he's in middle school now so there's that. He's a little more grown-up, as shown in the Halloween episode. And the Halloween episode was basically Allison (Suzy Nakamura) worried that she's going to lose Dave, and then D.K. (Dana Lee) telling this really scary, Korean ghost story to Ken and Dave. It was so much fun. There were special effects, god, stunts, and crazy hair, makeup, costumes.
Are you still really enjoying the live audience aspect of it?
Yeah, it's great because they just bring such a different energy to it.
Do you have a preference between single camera and multi-camera in front of an audience?
I like both single camera and multi-camera. Single camera is great because it's got all the location shoots and I feel like you can do more of the crazy, fun stuff, like what we did for our Halloween episode. We shot that without an audience because there's just too much. But I also like multi-camera because we get to perform in front of real people, not just through a camera.
Do you think you'd want to do theater?
I don't know because theater is different, your live thing is your final. Like the live tapings, it's easier because if you mess up, it's fine. I have done school plays but also live broadcast TV. I was in the season five live premiere of Hot in Cleveland.
Theater, too, presents another challenge because you're live but you're doing the same show every night.
Yeah, the first time I met with a couple of theater actors and they were like, I've been doing the same play for like four months. And I'm like, How do you do the same thing over and over every single night? I feel like one of my favorite things about acting is getting the new script every week, which is also why I love doing TV because you get a new episode every week.
Who have you worked with so far that you've learned the most from?
All the adults I've worked with have taught me so much about comedy and Ken has taught me some of the behind-the-scenes stuff as well. And I love watching how the producers and directors and the writers and the crew all work together to put together a TV show.
Would you be interested in writing or producing in the future?
I would love to be a producer, or writing would also be cool. Directing, too!
Both you and Ken have been on Fresh Off the Boat at different times. Did you enjoy that?
Yeah, I have, as Phillip Goldstein. I think he's the first antagonist character I've played. He was fun to play. I love Phillip's wardrobe and hair choices. On point. He always wears scarves and artsy T-shirts.
He wears scarves in Florida.
Oh, yeah. Scarves in Florida. I never thought about it that way. And that's the longest I ever spent in the hair and makeup chair because they kept gelling my hair back, making it almost like a hard wig.
Do people still stop you and talk to you about Bert from Trophy Wife? Bert is beloved.
We're on the new ABC Go streaming app. There's still a lot of Trophy Wife fans that come up to me.
A lot of people were sad that it went away.
Me too. But I've been keeping in touch with the cast members, like I saw [Michaela Watkins, who played his mother] a couple of months ago. She came to a live taping.
Which of these characters that we've been discussing has been the most fun for you to play?
I love playing Dave because he just does so many crazy things.
What's your favorite kind of movie to see?
Ooooh, that's tough. I love animation movies. Zootopia has been a favorite for me this year. So cute and so heartwarming. And also, I like The Secret Life of Pets. What's with all the animal animation movies this year?
I'm for it. I love animals.
Me too. I would like to maybe do some dramas, some action or adventure stuff. Like Harry Potter. I love Harry Potter. That's one of my favorites.
How did you get into acting?
I did this school play when I was 7 and I kind of fell in love with acting. So I started doing acting classes in San Jose and then I came down to L.A. for this competition thing called iPOP where I won the Child Actor of the Year Award, and that's where my agent discovered me. I really started filming Trophy Wife when I was around 9. My TV debut was actually an episode of How I Met Your Mother where I played laser tag with Neil Patrick Harris. It was great. I saw him later at the premiere of Frozen.
Did someone encourage you to pursue acting when you were doing your school plays?
No, my parents really supported me in what I wanted to do. And I'm so grateful for their support. Really, my parents encouraged me to follow my passion, my dreams. I tried it, and I fell in love with it.

Do you find it easy to memorize your lines?
I read a lot, so yeah. When I get a script, the first thing I do is read the whole script from top to bottom, even the parts I'm not in, to understand all the story lines and the whole story of the episode. I love that. It's like reading a novel. And then I'll just practice my lines over and over.
What do you like to read?
I like novels and stuff. But also my favorite subjects in school are history and geography and science. So I read about those things in school as well. And I love biographies.
Are you a good student?
Yeah. I always keep my grades up. School is really important for me.
Are you thinking yet about where you want to go to college?
I want to go to college in Stanford. It's a great school and it's close to home.
So what are you reading now?
Well there's the new Harry Potter book, the play book [Harry Potter and the Cursed Child]. Since I wasn't going to be in London any time soon, I figured I might as well read the book. And also, the other thing was, I have been reading the Percy Jackson series. And it's like, sequels and stuff. And I like that. That's what kind of got me into Greek mythology and stuff.
Tell me more about this season of Dr. Ken. What else is Dave up to?
He's got his new girlfriend, Emily, who's played by Ken's real-life daughter, Zoey. So they got up to some adventures in the third and fourth episode that already aired. And the Parks go on a road trip for Thanksgiving with some complications, and maybe a few Pokémon Go addictions.
Are you addicted?
Me? Real life? Um, I'm not really addicted. I played on Suzy's phone sometimes. I don't know why. I just do. And then I have it on my prop phone — Dave's phone. I play sometimes. I won't say I'm addicted. But I feel like the main reason I'm not addicted is because I'm too lazy to walk, and I usually just put down the incense and have the Pokémon come to me.
What happens in the episode you're taping tonight?
Tonight's episode is a lot of fun because Dave and Pat [Dave Foley] get up to some adventures in a jazz club. Ken basically leaves Dave with Pat.
Seems like an odd genre for a young boy, right?
Well, he also plays poker, mimes, attends City Council meetings for the drought and everything else he does.
He's very unusual.
But I like all genres of music. Like, I really love hip-hop and pop.

Are you still dancing a lot?
Sometimes. I like to learn like actual "dancing" dancing. 
Will they let you dance on the show at some point? You danced on Trophy Wife.
Ooh, I don't know. But I mimed in the pilot. So it's looking good.
If you mess up a line in front of the audience, how do you feel about that?
I'll just laugh it off, and I'll do it again. The audiences are usually really supportive.
What has been your biggest flub?
There's this funny story: I was on set and it was during season one and there's this scene where I had to fall asleep. But then I actually fell asleep. In between takes.
No! How did this happen?
Did you see this episode when Allison takes Dave to this book reading and he falls asleep in the bookstore? Like this? Albert throws his head back, closes his eyes, and snores a little.

I did see that. That's when Allison pretends that Dave is a Make-a-Wish kid to get him into Angela Merkel's book reading. You did not fall asleep right there!
I did! It was in between takes. It was a quick run. We couldn't walk out or anything. I was tired and then no one was talking to me and I was like [puts head back and starts snoring]. Ken and the director were like, Albert! And I was like, Hi!
Did the audience crack up?
The audience wasn't there. It was during pre-shooting. 
I wish I could fall asleep anywhere like that.
I can fall asleep in a lot of places.
This interview has been edited and condensed.