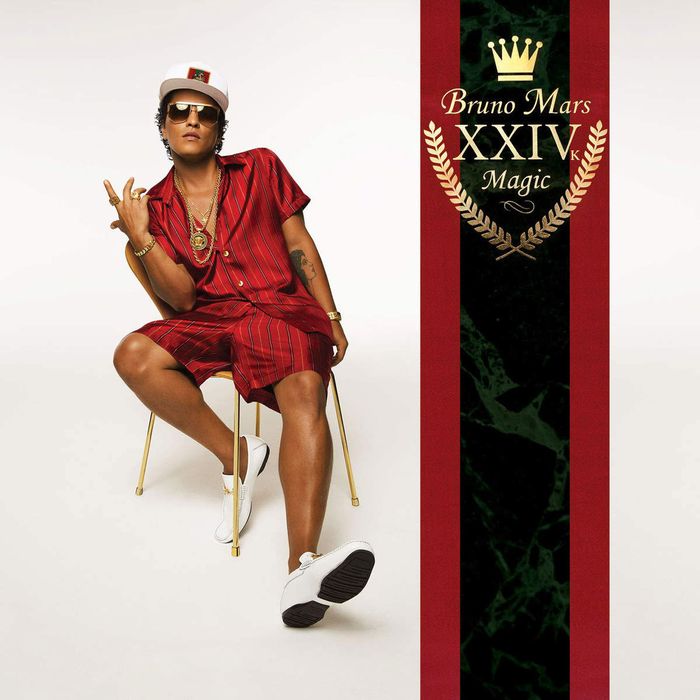 I never bought into Bruno Mars the first time around. Doo Wops and Hooligans is pleasant stuff, but there is something bloodlessly wholesome about it. It's wedding reception music. Mars didn't fascinate me until the flawless mugshot grin he delivered after a 2010 arrest for drug possession in Vegas. His music didn't move me until Unorthodox Jukebox's "Locked Out of Heaven," a note-perfect jack of Outlandos d'Amour-era Police that astounded for its flawlessness, cravenness, and the straight face with which it was all presented. Mars slid into a throwback soul mode with Jukebox's "Gorilla" and "Treasure" and the inescapable Mark Ronson hit "Uptown Funk." They crushed not just because he is an ace mimic but also because he's got the voice for the stuff. Rare is the soul that would attempt a Paisley Park thirst ballad like "Gorilla," and rarer still, the vessel that can sell it using a King Kong joke as entreaty to sex.
From the cover — Bruno in a blood-red, silk, short suit seated next to his name on a bawdy crest, like a freshly packaged cigar — on down, Mars's new album 24K Magic is a full-length field trip back to retro-soul, a nine-song travelogue examining the many R&B micromovements of the '80s and '90s. On the business end, it is a savvy pivot toward to the style of Bruno's biggest recent hits (like Sugar Ray scoring a massive hit with "Fly" and ditching nu metal for pure pop on the next album) but the boldness of the move still deserves attention. Mike, Janet, TLC, and Boyz II Men endure as titans, but the pulse of R&B shifted so rapidly in such a short frame of time that many of the marquee acts of the era, from En Vogue to Keith Sweat, slid off the charts by decade's end. The production didn't age well, and everyone who didn't evolve quickly and brashly when neo-soul arrived paid for it with their careers.
It's a gutsy gesture for Bruno Mars to hang the sound and scope of his first studio album in four years on the fussy drum machines and blocky synth textures of pre-millennial bubblegum R&B, but it's hard to think of a modern pop aesthete better positioned to pull it off. "Versace on the Floor" marries the schmaltzy keys of nuggets like SWV's "Weak" to the horndog teen longing of Heart Break-era New Edition. "Straight Up and Down" and "Finesse" are peak new jack swing. "Chunky" and the title track capture the moment in the early '90s where the twin thrusts of neo-soul and Cali g-funk began to supplant the heavy-handed synths and drum programming of Teddy Riley and the like in favor of a more organic sound. Mars and his production team — who've changed their name from "the Smeezingtons" to "Shampoo Press & Curl" for the occasion — nail the moods and subtleties of each wave like they lived them and sorely miss them.
As reverent as these productions are, 24K Magic's most fascinating moments are ones where it wanders back to the present. "That's What I Like" is one of the album's best and most modern-sounding cuts by some distance, thanks to a killer vocal and tasteful trap drums (although to be fair, it carries more than a passing resemblance to Beyoncé and the Neptunes' B'day sleeper "Kitty Kat"). "Perm" runs a '70s funk call-and-response routine thru crisp break-beats while Bruno raps over top of it. He's a charismatic vocalist but an iffy MC, and there isn't anything he achieves here that Mark Ronson and Mystikal didn't do better on last year's stunning "Get Right." Still, it's intriguing to hear him dive headfirst into an experiment that doesn't work out, if only for a rare glimpse of him trying too hard and coming up short.
24K Magic is a load of fun, but sometimes it gets too caught up in the finer points of its throwback aesthetic to resonate emotionally. The writing can run a little universal, and therefore, impersonal. There is a song about dressing nicely, a song about butts, a song about hair, two songs about knowing a lot of girls, three more songs about having sex with said girls, and closer about breaking up with one. Maybe it's a side effect of looking to too-cool-for-school '80s and '90s teen singing sensations for style inspiration. It could also be Bruno sacrificing genuineness for relatability again. Whatever the case, the weddings this stuff will inevitably soundtrack are going to crush the ones that got "Grenade" and "Marry You." Silver linings!