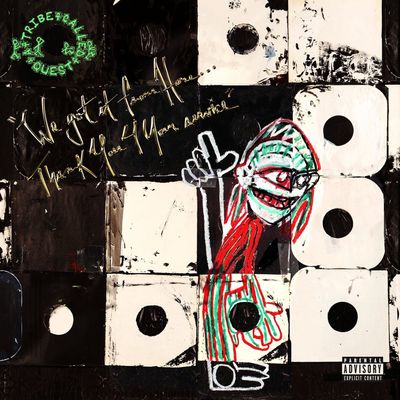 A few months ago, I was sitting in the balcony at the Apollo Theater at the funeral of A Tribe Called Quest co-founder Malik "Phife Dawg" Taylor when I realized something I'd known all along but never bothered to utter: Tribe was a land bridge between rap's old school, golden era, underground, and possible future. Q-Tip and Phife's love of line-for-line rhyme schemes and Afrocentric lyrical themes reached back into the b-boy crew routines of the early '80s for form and lived on in the substance of subsequent conscious wordsmiths like Mos Def and Common. Q-Tip's mystical ear for offbeat sample loops built on advances in production spearheaded by Juice Crew maestro Marley Marl while inspiring future friends and admirers J. Dilla and Kanye West. They were a summation of what had come before and the seed for what was to come later.
At the Apollo, it helped to have a visual aid: Phife's service united legends like KRS-One and Chuck D with contemporaries and successors including Busta Rhymes, the Roots, D'Angelo, André 3000, Kanye West, and more. At one point, I heard someone onstage shout out LL Cool J. Later, I'd peer over the balcony's edge to catch Kanye hugging Queen Latifah, and whispers at night's end suggested Lauryn Hill had quietly shown up, too. I spent the evening equally awestruck that four decades' worth of hip-hop royalty shared the same reverence for Tribe as me — Low End Theory and People's Instinctive Travels figured as prominently into my Manhattan adolescence as Midnight Marauders would on idle college nights in and around Boston — and sad that I would never get to hear Tip and Phife rap together again.
Truth be told, A Tribe Called Quest had been put to bed a few times before: There was the group's initial 1998 split, rocky reunions documented in Michael Rapaport's heartbreaking Beats, Rhymes & Life: The Travels of A Tribe Called Quest, a pair of Brooklyn slots on Kanye West's 2013 Yeezus tour touted as a live farewell, and a late-night performance commemorating last fall's reissue of People's Instinctive Travels. The abrupt unveiling of a secret final Tribe album this fall isn't so much a surprise as a molten ball of star junk crashed straight into a darkening discourse, out of time and yet right on time, familiar but not quite like anything else in today's musical landscape. We Got It From Here… Thank You 4 Your Service is neither a cynical trip back to the group's early '90s comfort zone nor a cash-grab brush with modernity; it's more like a newly discovered piece of a galaxy of Tribe's creation.
The question of what A Tribe Called Quest should sound like nearly two decades after the last studio album gets resolved in a gang of exquisite productions that toy with conventions that they also sneakily subvert. "Whateva Will Be" runs a dizzying sampling workout using the shiftless, slithering bass from the Nairobi Sisters' 1975 reggae nugget "Promised Land." "Solid Walls of Sound" uses a line looped from Elton John's "Benny and the Jets" as a lure, then floats in a reggae groove so subtle it's easy to miss that it's being played live with help on vocals and piano from the actual Elton, not diced and rearranged out of the source material. Live bass makes "Black Spasmodic" pop under Phife's reggae toasts, and a chunky guitar-bass-drums-loop setup awards "Movin Backwards" a hefty stomp reminiscent of Led Zeppelin.
The live stuff on the new album at times recalls the Ron Carter bass assists on 1991's Low End Theory along with the big-band thump of Q-Tip's once-shelved, underrated 2002 solo album, Kamaal/The Abstract, which reimagined Tribe's jazz vinyl nerd approach as swinging guitar rock and sexy adult contemporary R&B. Here, though, samples and live instrumentation collude to beef up arrangements and pull us through sneaky changes not so easily managed electronically. You can hear these ideas coming together in recent Q-Tip productions like Pusha T's skulking "F.I.F.A." and John Legend's sultry "Tomorrow"; We Got It From Here is an unexpected return for A Tribe Called Quest as a group, but it's also the biggest batch of Q-Tip beats we've received since 2008's The Renaissance and a reminder that he's a beast behind the boards.
We Got It From Here… restores Q-Tip and Phife's verbal interplay to near-peak form, too, and loops in frequent studio guest Busta Rhymes, People's Instinctive Travels, and Beats, Rhymes & Life's respective fourth members Jarobi White and Consequence, along with a few key outside voices. "Dis Generation" is a fleet game of pass-the-mic between Tip, Phife, Jarobi, and Busta; "Solid Wall of Sound" trades bread-and-butter boom bap for dancehall and patois. "The Killing Season" is a 2004 post-backpack dream-team summit between Q-Tip, Jarobi, Consequence, Talib Kweli, and Kanye West. André 3000 brings Southern charm to "Kids…," while New West luminaries Anderson .Paak and Kendrick Lamar pay respects in the album's back half. The only other time A Tribe Called Quest dislodged itself this freely from its New York jazz rap bearings was 1998, when Detroit beatsmith J. Dilla was invited into the fold for The Love Movement, but what separates We Got It From Here from the previous "final" Tribe album is a rejuvenated chemistry and unified message in place of its predecessor's frayed perseverance.
A Tribe Called Quest has come back this year like grizzled uncles to acknowledge that, yeah, it feels like everything's gone to shit right now, but 2016 isn't black America's first rodeo, and it won't be the last. They cut through the perils of Trumpism with a resolve that can only have been won in outlasting the drug, crime, and mass incarceration that riddled the New York City of the Reagan years. Every song on the new album provides pointed advice for life in similar hard times: After opener "The Space Program" suggests unity, since "there ain't no space program for niggas … yeah you stuck here," the album passes through oldhead advice sessions in "Kids…" and the stop-and-frisk tale "Movin Backwards" before closing on a cut chillingly titled "The Donald." It's a care package full of tough-love missives we didn't know we'd need, in a moment when we need them most. The timeliness of the message coupled with the gift of hearing Phife one last time in all his larger-than-life glory on an album worthy of his legacy are a closure we should all be honored to enjoy. It's hard to parse whether Phife's album title, We Got It From Here… Thank You 4 Your Service, was a message for fans or himself at this point. Perhaps we carried each other all along.