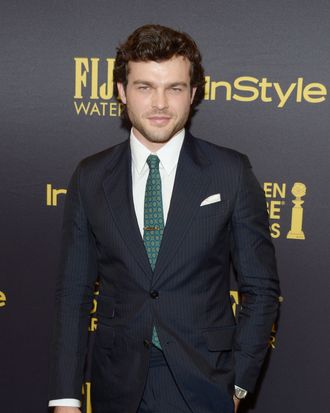 Photo: Matt Winkelmeyer/Getty Images
For years, when Alden Ehrenreich lost a major part he'd been auditioning for, he would buy himself a present as a pick-me-up. "I still do!" he told Vulture at a recent screening of his new film, Rules Don't Apply. That raises the question, though: What does Ehrenreich do when he actually does nab a role — specifically, his most high-profile role yet, young Han Solo in the soon-to-shoot Star Wars prequel? When the part itself is such a major gift, does Ehrenreich's wallet get a break?
Not quite: The day he found out that Han was his, the 27-year-old Ehrenreich treated himself to a big dinner at Musso and Frank's, an old-fashioned and pricey Los Angeles restaurant. There was just one problem with this ostensibly celebratory meal. "I couldn't tell anybody," he groaned. Surely he confided to a few select friends or family members that he'd beaten several hundred young actors to secure the biggest movie of his career? Ehrenreich shook his head. "Not a one."

Making matters worse was the fact that Ehrenreich had been publicly linked to the role: Since late 2015, he was one of the actors most often mentioned as a contender, and people continued to wish him luck for months after he'd secretly been cast. "I couldn't acknowledge it until we did the Star Wars Celebration, which was in July," he said. "And I think I had the role a few months before that. It was crazy!"

Then again, Ehrenreich knows the value of patience. After leading Francis Ford Coppola's black-and-white 2009 curio Tetro, Ehrenreich kept plugging away in search of a breakout role, appearing briefly in Woody Allen's Blue Jasmine, starring in the young-adult underperformer Beautiful Creatures, and finally popping through this past spring as a charmingly naïve young cowboy in Joel and Ethan Coen's showbiz satire Hail Caesar! All along, Warren Beatty had been courting Ehrenreich to star in Rules as a young driver who becomes embroiled with the eccentric Howard Hughes.

"I met him when I was 19 and I didn't know what it was about, although I knew it was about a movie," Ehrenreich said. "We had a four-and-a-half-hour meeting, and after that, it was five years of meetings — the longest one on record, for me, was nine hours. But I loved spending time with him, and since I grew up watching old movies, it became a time to ask this person who was present during the Old Hollywood era about all these things. It became like an apprenticeship for me, really."

Once Beatty finally committed to Ehrenreich, he took an active role in encouraging the young actor to become involved with the filmmaking process, inviting him to sit in on location scouts and budget meetings. For Ehrenreich, who's spent the last month or two editing a short film he directed starring Saul Rubinek, that experience was invaluable. "Warren was very aware of the fact that I wanted to direct, and I think one of the final pushes for him giving me the role is that he knew I was making this short film," he said.

Don't be surprised, then, if the next Han Solo pops behind the camera just as he's starting to become famous for appearing on front of it. "After working for Coppola, Warren, the Coen Brothers, and Woody Allen, I've had, like, this film school," Ehrenreich said. "It makes me so excited to direct something because I've learned so much from being directed by them." And if his Star Wars commitments make that feature-directorial debut tricky to schedule, at least Ehrenreich knows that good things come to those who wait.