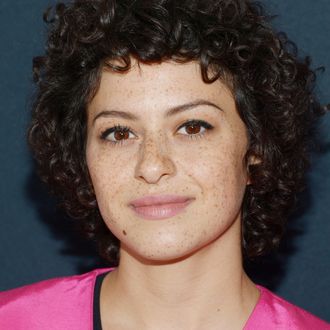 Photo: Matt Winkelmeyer/Getty Images
Alia Shawkat remembers waking up the Thursday after the election and realizing what she had to do that night: go on Late Night With Seth Meyers to talk about her new TBS comedy, Search Party. "I was kind of like, how am I going to go talk about a show?" she recalled. "How am I just going to pontificate about the funniest thing happened the other day … All of a sudden when you're hit with the reality of your own life and your priorities start to go into question, which is something that's healthy for everybody, to realize what our priorities are and how we connect to things." When Shawkat joined the Vulture TV Podcast this week, also to talk about Search Party (one of Vulture's favorite new shows), she she took a moment to reflect on how Trump's win connects to our culture of self-obsession (which, coincidentally, is also one of the themes of Search Party). Read what she had to say here, and listen to our full conversation with Shawkat and co-stars John Early and John Reynolds on the Vulture TV Podcast.
I think there's such a focus on curating yourself now, that even if we're trying to show … that we're not trying to have a tension, we're really trying to show how cool we are, even if we think we're making a joke about ourselves. Because nobody's actually that humble, it's still a good photo of you, it's still you doing something really cool, and you're like, Oh, I'm eating, like, whatever! And then you're like, oh is that Zach Braff in the background? Everything's this packaged ideal of this perfect life, even if your life is usually never that perfect, because no one's life is, and nothing can be captured that way in a photo or comment. So I think with this energy that's so focused into this inner side of ourselves, we kind of become obsessed with it and it takes you back from what's happening to other people. This has been going on for a long time. Shootings have been happening all the time, all these things that we're kind of like, Fuck, that sucks, and we just go back to our life. This one might implicate us, and affect us, and it already has, and it's so much more disturbing because of that. We're like, oh, it's actually tapping into my bubble now.

And to bring it back to Search Party on TBS [laughs] is that a lot of their struggles, especially Dory's, is that feeling. You get kind of numb when you're so detached from things outside of yourself. And like, why do we feel better when we're in nature? Why do we feel better when we're helping other people? It's a natural, human urge to want to do that, not just to be building up this idea of ourselves, because it feels fake. And then you actually don't even enjoy your bliss life, you're just like, I'm so privileged. A lot of us were so shocked, and I can't feel guilty forever, but I was like, fuck, I've been going on like this was it, like gravy, baby, and not appreciating my life. And the least I can do now is appreciate [my]self, appreciate your life, appreciate the love you have, be nice to the people around you, and then slowly work from there. Because you can't otherwise if you can't love yourself, and I think a lot of this generation has a hard time accepting themselves, because it never feels like enough.
Tune in to the Vulture TV Podcast, produced by the Slate Group's Panoply, every Tuesday, on iTunes, or wherever you get your podcasts. And please send us your burning TV questions! Tweet us @Vulture, email tvquestions@vulture.com, or leave us a voice-mail at 646-504-7673.