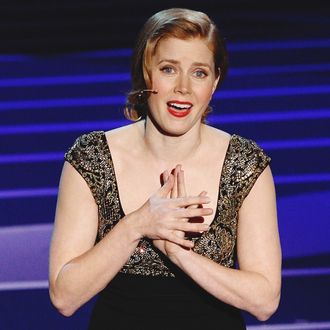 Protect Amy Adams!
Photo: Kevin Winter/Getty Images
While Amy Adams has five very good reasons to be frustrated with the Oscars, America's hardest-working actress™ seems to have only one small gripe about the ceremony. Specifically: As she mentions in a Hollywood Reporter roundtable, she had the most intense stage fright of her life while singing Enchanted's "Happy Working Song" alone onstage at the Oscars in 2008. (That year, Kristin Chenoweth got to sing another Enchanted song with a whole cadre of back-up performers. The discrepancy was mystifying.) Anyway, in the name of grand cosmic redheaded ingénue justice, Adams is pretty happy that Emma Stone might have to suffer the same fate while singing one of her songs from La La Land this year.
First, observe Adams's awkwardly staged — though, of course, very capable — performance:
Now, on to the relevant dialogue from the THR roundtable, between Adams, Stone, and Taraji P. Henson:
ADAMS: The worst stage fright I ever had was singing alone at the Oscars [a song from Enchanted in 2008].
HENSON: Very scary.
ADAMS: Emma? Maybe this year?
STONE: Oh no. I forgot about that.
ADAMS: You should do it.
Of course, other actresses have had to do equally ill-conceived Best Original Song performances, like Henson, who sang the "It's Hard Out Here for a Pimp" in 2006 alongside Three 6 Mafia in front of what might be the exact opposite of the song's target audience — though, to be fair, the song did win the Oscar.
To which, Henson says:
HENSON: At least you didn't have to sing about pimps and whores [a song from Hustle & Flow with Three 6 Mafia at the 2006 Oscars].
ADAMS: You actually did it. That was the first year I was nominated, and I was like, "She is up there, singing at the Oscars."
HENSON: It was pretty scary. I had to look over everyone's heads because it's not like what I'm singing about is the most … you know.
Ban the Best Original Song performances! The actresses hate them just as much as the rest of us!