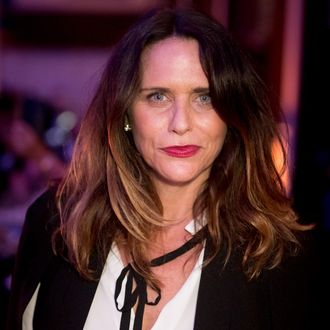 Act with your eyes!
Photo: Greg Doherty/Getty Images
While surely you were looking out for Stan Lee's cameo in Doctor Strange this weekend, did you catch an appearance by Transparent star Amy Landecker? Of course you didn't! She isn't even sure she's there! Landecker is credited for playing an anesthesiologist in the introductory scene with Benedict Cumberbatch when he performs surgery. She described the entire process with Marvel as very secretive, and she was initially told she would need to take brain-surgery lessons, and later that she would be wearing a surgical mask and scrubs the entire time. "When I get there, I'm in a mask and scrubs and a surgical cap. The entire film. There will not be a moment in the film where I do not have the mask on my face," Landecker said. "Okay, so my performance is my eyes. Okay. I'm humble. Okay, I'm still in a Marvel movie. It's still really exciting."
So here's some random movie trivia to store away: Landecker was cast partly to stage a reunion between her and Michael Stuhlberg, who co-starred with her in 2009's A Serious Man. "So it turned out that the director was a really big A Serious Man fan," Landecker said of Scott Derrickson. "And Michael Stuhlberg was in that second scene. So, the whole thing was kind of a fun 'Let's get Michael Stuhlberg and Amy back together' in Doctor Strange." Mission sort of accomplished? We say sort of, because for the second part of the shoot, Landecker found out that Transparent was having a premiere at the White House, and she asked for a stand-in so she could attend that instead.
The second part of the shoot, Transparent was having a premiere at the White House, and I found out that I had no lines in the second scene at all. So I asked them, "Is it possible to not be in this second scene, since I have no lines at all? I'm just sitting there with my back to the surgery, mostly. And maybe someone with blue eyes could sit in, and they would never know if it was me or not." [Laughs.] And they were very gracious and kind and let me out of the second half of the film.
Yes, you're right: Amy Landecker's Doctor Strange cameo was basically … transparent.