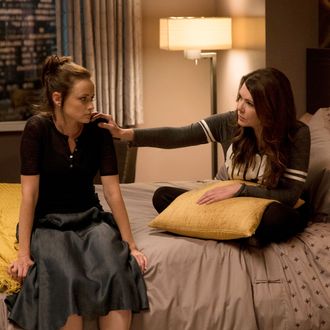 Photo: Saeed Adyani/Netflix
Spoilers for the very end of Gilmore Girls: A Year in the Life ahead.
There are a lot of tantalizing theories rolling around people's minds about the surprise ending of Netflix's Gilmore Girls: A Year in the Life — the baby daddy has to be Logan! Jess! Paul! Wookie! — but perhaps the main question, Rory's child aside, is a little more simple. Will the show return with even more new episodes some day? For showrunner Amy Sherman-Palladino, it isn't out of the question, but first and foremost she wants to see how the revival is received by fans. "We really had a very specific journey in our minds and we fulfilled the journey," Sherman-Palladino told The Hollywood Reporter about the possibility. "So to us, this is the piece that we wanted to do. And the whole thought about, is there more, is there more, is there more — this has to go out into the universe now. We've got to put this to bed. And then whatever happens, happens." Scott Patterson was a little more optimistic about more installments: "It's been nice to do it every year. Maybe every two years, do a three-month thing, do four more chapters. It was easy to do. It was fun. It was really rewarding and people got a sense that if this was going to be the last thing that we now have some closure." Hey, maybe there are four other last words that need to be spoken now.