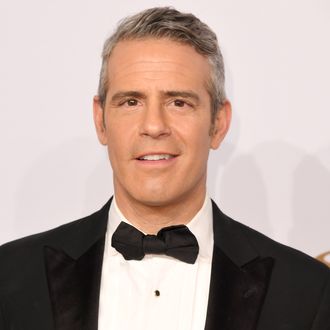 Bravo!
Photo: ANGELA WEISS/AFP/Getty Images
There is perhaps but one celebrity in the universe Andy Cohen has zero interest in being seen with, and that celeb is now the leader of the free world. In a live interview with EW's Jess Cagle, Cohen describes a time when he avoided President-elect Donald Trump like the plague because of his "bad vibes." Back when Cohen used to host some of Trump's beauty pageants, Cohen says their correspondence started out "nice and great" until it ran the natural course, and Cohen had to contractually distance himself from Trump altogether. Cohen says he had a clause in his deal that he wouldn't appear in photos with Trump so as not to be "associated" with the man, a master class in dodging people that Cohen took so seriously that he once refused a ride on Trump's private plane and had to fly commercial.
Their relationship especially deteriorated after Cohen wrote a letter to Trump announcing that he wouldn't host the 2013 Miss Universe in Russia because of the country's anti-gay laws unless Trump moved the pageant elsewhere. Of course, Trump took the high road and responded in "Page Six," saying Cohen had never been offered the job. "Anyway, he's our president now!" Cohen said. But despite his own personal nightmare, Cohen says he's "not rooting against" Trump's success — that is, until Trump "fucks with his civil liberties." And no one fucks with Andy Cohen. "I just don't want him to be a bigot and I think they need to take his Twitter away," Cohen said, on behalf of us all.