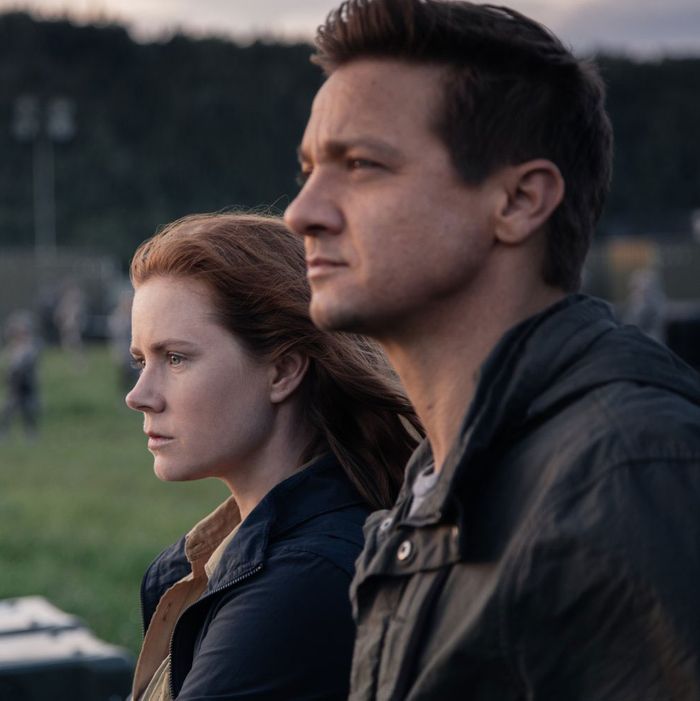 Amy Adams and Jeremy Renner in Arrival.
The Main Story
If there's been any grand narrative in the last decade of mainstream filmmaking, it's the decline of original films for adults, which have been tossed aside in favor of nine-figure budgets and tentpole franchises. But toward the end of the year, when audiences have come to learn that they should start paying attention to the multiplex again, the studios still manage to produce a few riskier and more adventurous movies, with the upside of awards season enough to justify their existence. Denis Villeneuve's Arrival is one of these, and this time, at least, the gamble paid off.
In its first weekend, Arrival earned $24 million, good for third place behind Doctor Strange and Trolls, each of which held their positions from last week. Making that number even more impressive is the fact that Arrival debuted in just 2,317 locations, or about 60 percent of the theaters that Doctor Strange played in last week; its $10,358 per-theater average is the highest of any live-action wide-release this year that isn't part of a preexisting franchise. (Are there any others, you might ask? A few!)
As Mark Harris pointed out in the Ringer's State-of-Hollywood essay, there seems to  be room for a smart space movie every fall, with Arrival following in the proud tradition of Gravity (2013), Interstellar (2014), and The Martian (2015). Arrival couldn't replicate the openings of those films, all of which were huge hits, but at a $47 million budget, it also cost less than half of any them. Its opening is a solid success for Paramount, which is hoping to have a big season; the studio still has Robert Zemeckis's Allied, Denzel Washington's Fences, and Martin Scorsese's Silence to come.
What Else Happened?
This weekend looked uncannily like last, with Doctor Strange and Trolls holding on to the top two spots, and Hacksaw Ridge returned to the top five, finishing fifth. But what's more impressive is these films' second-weekend declines — or rather, the lack thereof. Doctor Strange fell just 49.4 percent from its opening, which means the only MCU movie with a smaller decline from weekend one to weekend two was the first Iron Man. Trolls fell only 24.8 percent, which, believe it or not, is the best hold of any movie this year that debuted in more than 2,000 theaters. And Hacksaw Ridge fell 29.1 percent, the second-best hold in that category, and a good sign for its chances of sticking around until the end-of-year awards. There was some reason to expect these movies to continue performing well — limited competition, good reviews and Cinemascores, overperforming opening weekends — but their staying power is still impressive.
Meanwhile, Ben Affleck vehicle The Accountant has remained remarkably steady, earning another $4.5 million in its fifth weekend. With a budget of $44 million, The Accountant is over $125 million worldwide, giving Warner Bros. a nice little victory and reaffirming the importance of Affleck to the studio, which handles the DC movies and will release Affleck's Live by Night later this year. Barry Jenkins's Moonlight continues to do well during its slow rollout, adding $1.4 million from 176 theaters, good for just under $5 million total — a number that should continue to increase into awards season, when it'll increase even more. And the same goes for Jeff Nichols's Loving, a solid performer it its second weekend with $532,000 from 46 theaters, though that amount also underlines just how impressive Moonlight's box office has been: In its second weekend, Jenkins's film earned more than double what Loving did per theater.
Billy Lynn's Long Halftime Walk also bowed this weekend, taking in $120,000 from two theaters. While that $60,000 average might look impressive, it shows the added boost of Billy Lynn's 4K, 3D, and 120 FPS specs. Both of the theaters where it opened in limited release could support that version, but they're two of only five in the world that can, and it'll be interesting to see whether the disappointingly received film can hold its own without the draw of never-before-seen technology. Although, given the dismal reviews for the film's high-tech look, maybe it's a good thing most people will see it in the usual frame rate.