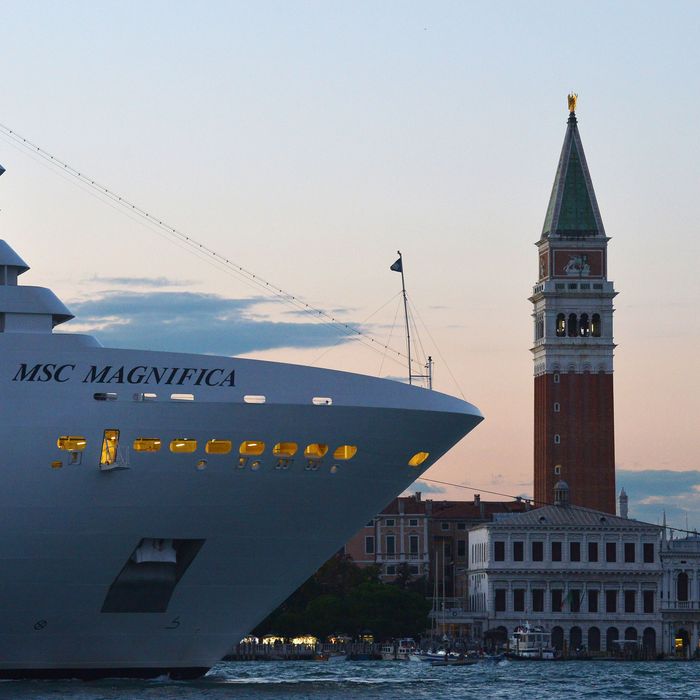 A cruise ship is picture at sunset during the 72nd Venice International Film Festival on September 7, 2015 in Venice. AFP PHOTO / TIZIANA FABI (Photo credit should read TIZIANA FABI/AFP/Getty Images)
Photo: TIZIANA FABI/AFP/Getty Images
The Italian art historian Salvatore Settis, smiling and dapper in a brown suit, was standing by the information desk in the Great Hall at the Metropolitan Museum of Art talking to a tourist. Settis, who's been described as akin to a Jane Jacobs of Italy and whose new book If Venice Dies is an urgent plea to save what he believes is a city in danger of losing its distinctive soul, has very mixed feelings about tourists.
This tourist, though, is okay. "I found another Italian," says Settis, formerly the drector of the Getty Research Institute of Los Angeles. The other Italian, scruffily bearded and beaming, points at Settis and says in heavily accented English, "This is a great defender of Italian culture and history!"
And according to Settis's book, Venice needs serious help. Visitors to the city, for example, outnumber locals by 140 to 1, and often arrive via massive and destructive cruise ships. (Which look conspicuously ugly floating by Piazza San Marco.) The city's population is declining too, as property values, inflated by foreigners buying second homes, have pushed out natives and the economy has become dependent on tourism, with locals increasingly relegated to unsatisfying jobs catering to the needs of transient selfie-takers.
Sitting on a bench in the medieval sculpture hall, Settis talked about how a famous city of ghosts might be saved from becoming one.
In your book, you hold up the glut of cruise ships as being a real threat to Venice. They bring in tourists and their dollars but leave behind environmental and structural damage that the city then has to pay for. But is it realistic to think that the city's authorities might limit cruise ships' entry into the city?
The port authority, the government of Italy, the mayor of Venice: They have a duty to stop this. There needs to be pressure put on Italian authorities to limit the number of cruise ships coming to Venice and also limit the number entering the city near Piazza San Marco. Less than 20 percent of the tourists get off the cruise ships arriving in Venice. They're only coming for the view. If all they want is a view, show them a movie.
But if people want to see Venice from a cruise ship, it seems like it would be hard to expect people to not act out of self-interest when they're on vacation.
At least the most cultivated and intellectually alert among the tourists, they should say to the cruise companies, "I'll buy my ticket provided that the cruise ship not enter Piazza San Marco." If even 100 people did this, it would make a difference.
Aside from limiting cruise ships, what specific policies need to be put in place that would prevent Venice from turning into a Disneyland version of itself?
One important step is to reduce the number of second homes, vacation homes owned by non-Venetians. Doing that would decrease the price of living in Venice and make it possible, especially for younger people, to afford to live here. There's a model for this: Switzerland passed a law by which no city in the country can have more than 20 percent of its homes be second homes for foreigners. If that can be done in Switzerland, why not in Italy? The second point is to encourage young people to live in Venice: by subsidies, by tax breaks, by controlling the price of rental apartments. And you can't just have people live here, you have to provide them with meaningful work outside of the tourism industry.
And how do you do that?
Italians don't pay 150 billion Euros in taxes every year. Fiscal evasion is a huge problem. If the government found a way to recover even 10 percent of that money, it could use it to support new research institutions, colleges, technologically based business. I realize these things don't happen overnight, but the government needs to at least start making proposals in this direction instead of taking for granted that the future of the city will rely on tourism. An entire population of waiters, cooks, and sellers of carnival masks is a city that has no soul.
Aren't the forces that are endangering the "soul" of Venice the same forces that lots of historical European cities are dealing with? I'm thinking of things like the tourist economy, deindustrialization, a move towards cultural homogeneity. What can Venice do to preserve itself?
These are problems everywhere, of course. The reason I wrote about Venice is because the situation in the city is so extreme. If you look at Rome, the center of the city doesn't look abandoned but it is. Romans can't afford to live there anymore and are being pushed to the suburbs. Historic centers all over Italy are becoming gentrified and commodified. They're increasingly areas for the relatively wealthy. And in Venice it's even more visible because the nucleus of the historic part of the city is so clearly defined. This is also part of why I chose to write about the city. I'd like to trigger a process by which creative energies are encouraged to flourish again in Venice.
Can you give an example of how those creative energies used to flourish? Optimally.
Think of El Greco, a painter who came from Crete when Crete was a colony of Venice. He moved to Venice and started painting like an Italian. Then he moved to Spain. This one painter links Crete and Byzantine art with a style close to the Venetians Titian and Tintoretto and also the great Baroque painting in the court of the King of Spain in Toledo. That's something that without Venice couldn't have happened, and El Greco didn't do it for tourists. He did it for citizens, for human beings. The old republic of Venice clearly encouraged this in some way — it was a city full of energies, not just tourists.
In the book you write so much about how Venice is the product of a long history, one in which different people and ideas and ways of being kept mixing and interacting. The city wasn't static, which you're arguing it's in danger of becoming. But isn't it possible that we're just moving towards a future where historic physical spaces are just less important to how humans live? Maybe the creative energies that you say are being diminished in Venice are just moving online?
What you're describing is a process that's happening everywhere to a certain extent, but it doesn't involve the majority of young people, at least it doesn't in Italy. There are young people in Italy who aren't being eaten up by the digital world. I believe living in a historic city encourages people to experience the relationship between the body of a city and the body of the people living in that city. It's an enriching experience that living online can't provide.
You've raised the idea of architects adopting their own Hippocratic oath, where they pledge to do no harm. And you use the example of a Calatrava bridge in the city as an example of an architect who has done harm. But that's one bridge in a city of a thousand bridges. What other harm have architects done to Venice? 
I'm not pointing my finger at Calatrava but at the city's administration. The reason why that bridge is a failure is because the mayor didn't explain to him that there should've been a bridge closer to the DNA of Venetian bridges. He can design it his own way, I'm not opposed to modernity in Venice, but technically his bridge doesn't work. It requires high maintenance, which is not the case for other Venetian bridges. But rather than complain about bad architecture after the fact, it's better to raise these things before bad architecture is built. A Hippocratic oath for architects is a provocation, a way of saying that architects have social and cultural responsibility; they cannot say that they are only serving their customers. They also have to serve the generations of people that will live in a city with their buildings.
What gives you optimism for Venice's future?  
The beauty of the city. It radiates around itself, and that provides a strength and a legacy that motivates people to protect it. On my lecture tour here in the U.S. for this book, I've been surprised at how many people are coming to hear me speak. At Brown University the other day, the room was overflowing with people. The attention is fantastic. I think public opinion about what's happening to Venice is increasing and young people in Venice are increasingly willing to fight for their city. The more that people realize that Venice is in real danger of becoming a hollow city solely for tourists, the more that people will try to preserve it as a real, living thing.
This interview has been edited and condensed.