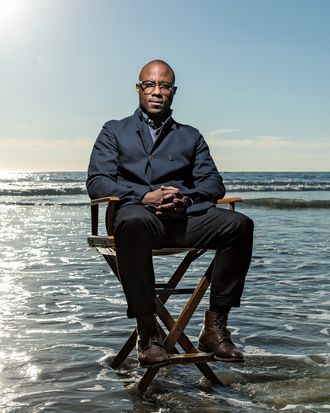 Barry Jenkins.
Photo: Jeff Minton
The Friday before Donald Trump was elected president, I met up with Barry Jenkins, the writer and director of the film Moonlight, to talk about the way things turn out for people. That is: fate and destiny. Not the nation's — that wasn't so disconcertingly certain that bright Los Angeles afternoon — but his own, and how he chose his and digested it in life and in his films, which, it seems to me, take a decidedly cautious view of self-determination. Moonlight is painful and powerful and gorgeous. After triumphing in limited release, it was opening nationwide that very night. And those who tout films for Academy Awards are busily a-touting.
And for good reason: Moonlight has a vivid ache, due in part to Jenkins's skill in channeling his own experience into it. It's divided into three narrative bursts that Jenkins calls "stories." Each depicts a section of the life of Chiron, which is pronounced like shy — and he is that: quiet, damaged, yearning, and constrained — growing up in Liberty Square, the same Miami housing project that Jenkins grew up in. And while Chiron's life tracks Jenkins's in several important ways, down to the mother who escaped into crack and then for years couldn't escape from it, their fates diverge: Chiron, a fictional character who was written this way, of course, falls into a trap of shut-down self-protection. Jenkins's fate has led him to the verge of Hollywood prominence.
And today it has taken him to this sidewalk café in downtown L.A. — a Middle Eastern–inflected place of the sort that serves "blistered green beans" with "tomato, fenugreek, and basil." He is 37, bespectacled, and, when I walk up, already drinking coffee and noshing on pickled vegetables.
Jenkins — at least getting-interviewed Jenkins — isn't a swaggering presence. Instead, you can see the quiet kid who, he tells me, kept his head down when he was growing up, looking for a way out. He played football (he was captain of the team) and ran track. His favorite TV show was Married With Children; he found The Cosby Show alienating ("I remembered thinking: Who are these people?"). After his mother was no longer able to take care of him because of her addiction — "My only memories of living with my mom were when I was like 3 years old. Other than that, I would see her around my neighborhood" — he was raised by a family friend. One of the most poignant scenes in the film is when a young Chiron fills the bathtub with water he heated on the stove. Jenkins, too, did that as a kid. He tells me he didn't know any white people, save a few teachers, until he went to college at Florida State University.
Tallahassee was, in fact, a different world. One day, walking across campus, he noticed signs for the FSU film school. He applied, got in, and realized he was woefully undereducated in cinema — his favorite movie was Die Hard, which he will defend to this day — so he spent a year watching laser discs in the library, to write this new version of Barry Jenkins. "In retrospect, I think I overreacted," he says.
At FSU in 2003, he made My Josephine, a dreamy short about a Middle Eastern couple who own a laundromat and — remember, this is in the wake of 9/11 — advertise that they wash American flags for free. It feels like it was filmed underwater, or maybe inside a commercial washing machine (at one point, the camera seems to tumble-dry). Most of it is in Arabic. It was shot by the cinematographer James Laxton, his friend and then-classmate, who would go on to shoot Jenkins's first feature, 2008's lyrically mopey Medicine for Melancholy, and, later, Moonlight.
Medicine is a meditation on what it means to be one of the only black people among a zippy, heedless crowd of white San Francisco hipsters in the MySpace era. Jenkins wrote it after fleeing his gig working for Oprah's production company in L.A. for San Francisco, where he met a girl, got a job with Banana Republic, and lost his drive to make films. Then, fortunately, she dumped him, and he made the film to process that.
After Medicine, Jenkins again seemed to stall. He spent a season writing for HBO's The Leftovers and made branded content for clients such as Bloomingdale's. He also created some shorts, including one called Remigration, which, Black Mirror–ishly, posited a future in which San Francisco subsidizes the return of the working class to do the work that nobody who can afford to live there wants to do. Where Medicine was concerned in part about how San Francisco was being bleached by money (and this before the digital boom reached its current pitch), Remigration looked at the fate of the people squeezed out.
It took the intervention of his friends to push him to make another feature. Laxton's wife, the producer Adele Romanski, who was part of their film-school posse at FSU, set up weekly Skype calls to go through possible ideas.
One he rejected because he thought it was too close to his own experience with his mother. But another, based on a piece of writing a friend in Miami sent to him by the MacArthur-"genius"-grant-winning playwright Tarell Alvin McCraney, seemed suitably removed. Though it was based on McCraney's childhood growing up in Liberty Square, the same housing project where Jenkins grew up, the story centered in part on how a local drug dealer became a kind of mentor and protector to McCraney while his father was absent and his mother was addicted to drugs.
McCraney's and Jenkins's personal stories were not particularly uncommon in their neighborhood. But that didn't mean they had much in common as teenagers. McCraney was a year behind Jenkins in school, gay, and involved in drama, eventually attending the local version of Juilliard. Jenkins, who is straight, was a jock and headed to the magnet school. They didn't know each other and, Jenkins tells me, wouldn't have been friends even if they had. "I kept to myself. I wasn't an artist, you know?" Jenkins says.
Jenkins began adapting McCraney's story into what would be the screenplay for Moonlight, not realizing, at first, just how much of his adaptation was actually about himself. Jenkins's friends didn't see all the parallels either. Romanski tells me that she wasn't aware Jenkins's own mother was HIV-positive until he mentioned it during casting. Jenkins had never brought it up.
And so: Moonlight, in addition to existing on its own artistic terms, marks for Jenkins a kind of return to himself, a reaccommodation of his past. "The beautiful thing about Moonlight is that it's like, This is who I am. This is where I'm from. This is my DNA. The other stuff I created — and we create things as we go through life, we become different people, literally, but this movie is who the fuck I am," Jenkins says.
At the restaurant, Jenkins orders for me — roasted Romanesco with Treviso, white soy, garlic — while I struggle with the fact that the mic on my iPhone has abruptly and mysteriously stopped working. So he offers to record for me, DropBox-ing it the next day. "This is amazing," he tells me. "I will say that this is perfect because this is how this movie was made — it could have been made on a borrowed iPhone."
Not quite, but it was made with limited funds and the help of friends. Laxton, his cinematographer, has known Jenkins since Laxton was 19, and they can communicate with an almost telepathic instinct, which is helpful when you're doing something as ambitious as Moonlight. There was freedom in being a bit below the radar with this film. Jenkins and Laxton could do what they wanted to do, not what was expected of them. "It's not neorealism or vérité or miserablist," Jenkins says. It doesn't feel like a pity tour of the slums. This despite the fact that that approach "has been the most feasible way to package these films, to present it to the audience. You give them what they expect." But "that's not how I experienced my childhood, exactly."
The score, by Nicholas Britell, is orchestral and ravishing: It's also not what some might expect to accompany a film about a kid from the hood with an addict parent. Jenkins tells me how there is a scene in the film, during the story when Chiron is 10. The kids are playing football. The scene opens as they all stand in a circle and stare at the camera to the strains of Mozart's "Laudate Dominum" from Vesperae Solennes de Confessore. Jenkins says that some people found the choice surprising. Certainly, Chiron didn't seem likely to have spent much time going to see the Miami Symphony Orchestra. But while the film has plenty of music that would likely be heard in Liberty Square — from Aretha Franklin to "Classic Man" — the score was meant to convey something else: Chiron's vast interior life.
"I hate to use the word universally, but you're universally in the throes of childhood, you know," Jenkins says. "You could feel your body like all the fucking time. And I think it fits in the narrative. You don't typically expect this narrative of this poor black boy in the slums of Miami struggling with his sexuality. And now it's just about being a child. You have all this life coursing through you."
For all that the film draws from life, neither Jenkins nor McCraney is, in the end, Chiron. The third story, where he's in his 20s and has become a closeted drug dealer, certainly isn't theirs. I ask Jenkins if Chiron's was a fate that McCraney was running from, and he ponders a bit. "I think it's an extrapolation of what the worst possible outcome could be. The total submergence of self."
Certain things have changed for Jenkins since Moonlight came out. For one thing, he tells me, he's no longer on OKCupid. And he has gone from wondering whether he would ever make another feature to wondering which one he will do next.
Even with the backing of Brad Pitt's Plan B Entertainment, and a screenplay, based on an acclaimed playwright's work ("When I see [McCraney] across the room, I call out, 'Hey, JEEEnus!' " jokes Jenkins), by a guy whose first film, Medicine, was one of the New York Times' Best Films of the Year for 2009, it still took some doing to get Moonlight made. Eventually, the distributor A24, which had never funded a film before, stepped up. Part of Moonlight's difficulty in getting off the ground was the state of small-scale serious filmmaking: So much of the "indie" audience has retreated onto their sofas to stream Netflix and HBO and maybe tweet about it. But Moonlight turned out to be that rare kind of superhero-free film that gets people to the cineplex. The night I saw it at the Angelika, the theater was packed like it was 2003 again. Afterward, strangers were talking to each other; some were crying.
And so things are suddenly looking better for another film adaptation he'd written a screenplay for but couldn't get the rights to, James Baldwin's If Beale Street Could Talk. "This is going so well the rights to that are coming back into play." And his mini-series adaptation — don't worry, you can sit at home and stream this one — of Colson Whitehead's The Underground Railroad is under way. (Whitehead's also a MacArthur winner. "I only work with geniuses," Jenkins deadpans.)
As we wind up lunch, after he orders caramel gelato, we come back to the idea of roads not taken. "It's funny, I was talking to Mahershala [Ali] about that," Jenkins says. In Moonlight, Ali plays the drug dealer with a heart, Juan, who looks after Chiron. More famously, though, Ali plays the sympathetic but ruthless political operator Remy Danton on House of Cards. "Remy is Juan," Jenkins says. "Remy Danton is not technically a criminal, and he has all this wealth. And Juan has this little Podunk corner. Same man, different situation, right?"
*This article appears in the November 28, 2016, issue of New York Magazine.