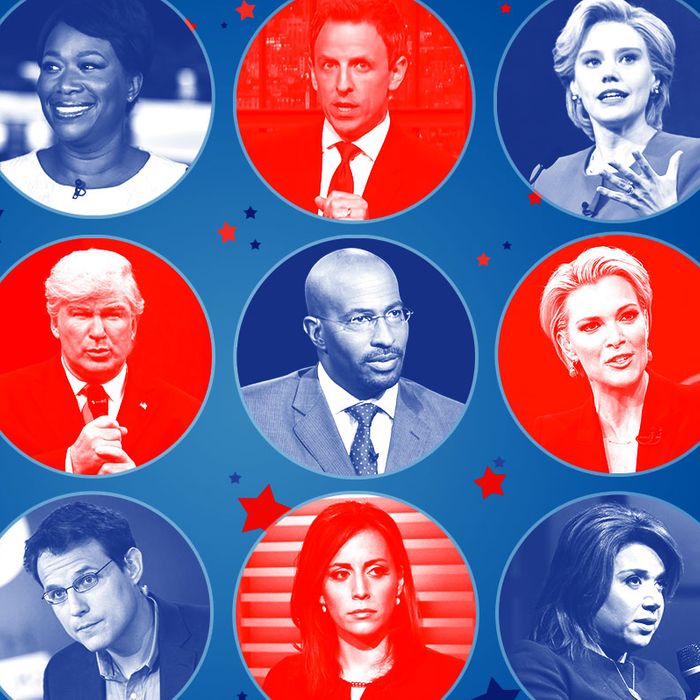 Photo-Illustration: Vulture
It's been just under 600 days since Ted Cruz announced his ill-fated quest for the White House, kicking off what's become a long national nightmare of a presidential campaign. But even as most of us look forward to what (fingers crossed) should be a final decision next week, the seemingly endless election cycle has not been without its winners — at least in the TV industry.
Cable-news ratings have soared, from the record-shattering Nielsen numbers for the first 2015 Republican primary debate to triple-digit ratings gains for CNN, Fox News, and MSNBC. Local TV stations and national networks also saw a flood of extra advertising revenue, while the rise of Donald Trump and the unexpectedly competitive Democratic primary battle between Hillary Clinton and Bernie Sanders boosted viewership and web traffic early and often.
And then there are those personalities who've managed to make the most of the Campaign from Hell, folks who emerged from the debris of this nasty, brutish, and not-so-short 19-month crusade better off than when it began — we've put together a list of 20 such individuals here. Important caveat: As with Clinton and Trump, opinions regarding the relative merits of various pundits, journalists, and politically minded entertainers can be highly polarized and subject to partisan interpretation. So while we've tried to be fair and include a mix of conservatives, moderates, and liberals, let's face it: We're part of the dishonest, sleazy, and rigged media Establishment. Sean Hannity never really had a chance of making our list.
*An earlier version of this post misidentified Brianna Keilar. We regret the error.