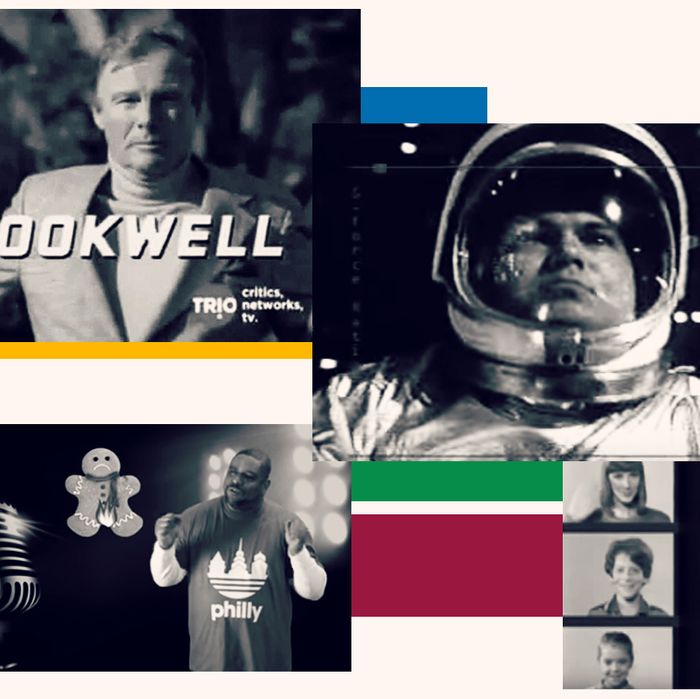 Photo-Illustration: Vulture
This week, Vulture is taking a look at great unproduced, unreleased, or unheralded entertainment.
Pilot season can be cruel for TV creators, most of whom are turned down before their show even gets to the air. Of course, today's overwhelming accessibility means that many of these pilots have found their way to the internet, allowing us to imagine what could have been if they had been greenlighted instead of Two Broke Girls. Here are some of the most interesting ones that are available to watch online right now.
Heat Vision and Jack
Perhaps the most famous unaired show, this FOX pilot was directed by Ben Stiller, and starred Jack Black, Owen Wilson, and Ron Silver. Oh, it was also written by Dan Harmon. Black plays a former astronaut who gets superpowers from a burst of solar energy, and Heat Vision is his talking motorcycle, voiced by Wilson.  It's a ridiculous premise but they somehow pull it off. It would have been like nothing else on television. Could they have sustained for a weekly series? We'll never know.
Lookwell
Long before everything was "meta," this comedy poked fun at West's own persona, casting him as an over-the-hill TV action star who tries to fight crimes in real life. Reportedly a personal favorite of NBC chairman Brandon Tartikoff, only one episode of this truly bizarre show aired in July of 1991, and it was literally the lowest-rated of 92 shows that week. Of course, it's gone on to achieve cult status. It's not hard to see why.
Nobody's Watching
Near the peak of the popularity of Scrubs, the WB tapped creator Bill Lawrence for another show that poked fun at the very institution of television. A pre-SNL Taran Killam and Paul Campbell play two friends who try to create a sitcom of their own. Incredibly meta — a reality crew follows the guys around as they create a show within a show — the pilot reportedly confused people but gained new life when it leaked online. It's a strange show, which means it probably never had a chance on network TV, but it's fascinating to consider how it would have maintained its unique premise from week to week.
Mr. and Mrs. Smith
TV adaptations of hit films have been around for much longer than Lethal Weapon and The Exorcist, but many of them die at some point in the production process. This adaptation of the hit film starring Brad Pitt and Angelina Jolie yielded a pilot, starring Martin Henderson and Jordana Brewster in the lead roles, but ABC passed on the show, leaving us to wonder what might have been. Doug Liman, who directed the film along with The Bourne Identity and Edge of Tomorrow, brings the piece energy, and Henderson and Brewster have strong chemistry. It was unlikely to earn ABC any Emmys, but one wonders why the network gave up on it so quickly given some other shows on the network in the last decade. (Yes, I'm talking about Dr. Ken.)
Darkman
In 1992, Universal Television produced a pilot for a series based on the great Sam Raimi film, intending for it to end up on the Fox schedule. Liam Neeson was replaced by Christopher Bowen, but Larry Drake returned as Robert G. Durant. Fox passed. Most of the pilot plays like a miniature version of the film (with some cribbing from Blade Runner thrown in for good measure), but this easily could have been cheesy fun on a weekly basis, not unlike what Ash vs. Evil Dead has been for Starz. Maybe I'm crazy, but I think Darkman could still work as a series, especially in today's Everything Superhero marketplace.
Clerks
Before Clerks: The Animated Series, a TV version of Kevin Smith's hit indie comedy was created but mercifully killed before it could become a series. Honestly, it's hard to even draw parallels between this pilot and the film. None of the cast or character names are even used, and it's deeply unfunny. It's more of a morbid curiosity — fascinating in its awfulness — and a lesson in how badly these things can go when they don't have the original creator involved.
Action Family
This Chris Elliott comedy was never really going to be a series, but a boy can dream. Before Get a Life, Elliott wrote and starred in this one-off spoof for Cinemax in 1986, and you really need to see it. Dan Harmon actually listed it as one of the biggest influences on his work. It's a hybrid of traditional family sitcom and cheesy action show in a way that feels way ahead of its time 30 years later. It's hysterically strange and just fantastic.
Zombieland
All we have from the aborted Amazon adaptation of the Ruben Fleischer hit is this funny opening scene, which the company released as a trailer before they declined to take the show to series. No one is really sure why, as it looks like they had the tone of the film down just from this brief clip.