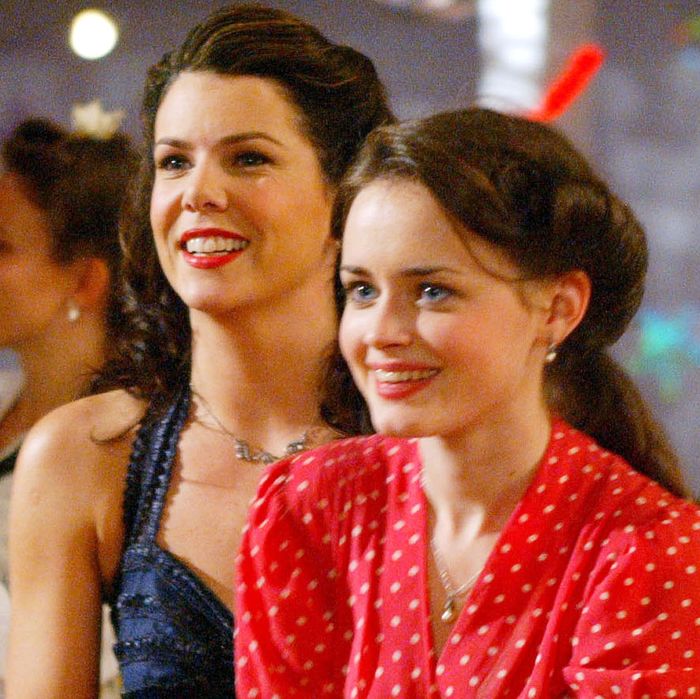 "They Shoot Gilmores, Don't They?"Lauren Graham as Lorelai, Alexis Bledel as Rory.
Photo: Mitchell Haddad/The WB
Gilmore Girls: A Year in the Life will be on Netflix very soon, and you're looking to binge the original episodes so you can fully immerse yourself in the nostalgia of what's to come. But it's impossible to watch all seven seasons between now and then, and let's be honest — do you really want to? There were some pretty rough patches in those 153 episodes. You can skip around and just pick your favorites, but that won't quite hit the spot, either. Much of the Gilmore satisfaction comes from the slow build, the gradually coalescing tensions and fissures. The best way to watch Gilmore Girls is not all at once, or in piecemeal, but rather, in carefully chosen batches.
To suit those needs, here are some manageable binge options to reacquaint yourself with the comforting fantasy world of Stars Hollow.
The Early Days (season 1, episodes 6 through 10)
The pilot episode is great, the bit when Rory gets hit by a deer is fun, but the following episodes are the best earliest encapsulation of the foundational Gilmore mythos. Episode six is Rory's birthday, and includes the first time Richard and Emily visit the Stars Hollow house. From there, you get pulled through Rory and Dean's first kiss, a solid Lorelai and Max buildup, one of the first real fights between Rory and Lorelai, and a temporary truce based on one of Richard's health crises. All that, plus a Stars Hollow reenactment of the Revolutionary War and Rory introducing her grandparents to frozen pizza.
The Birth of a Love Triangle (season 2, episodes 10 through 13)
The first episode of this batch, "The Bracebridge Dinner," introduces one the strangest and most beloved of all Stars Hollow events: there are costumes, there's antiquated language, there's Kirk being odd. "Bracebridge Dinner" also sets in motion several interesting interpersonal conflicts, especially between Emily and Richard, along with the brewing romantic tension with Jess, Dean, and Rory. Start with the dinner, and work your way up to another Stars Hollow classic — the charity picnic auction. Oh, Jess. That guy spells trouble.
The Peak Jess Era (season 2, episodes 19 through 22)
I'd argue that for every one of Rory's (terrible) boyfriends, Gilmore Girls is best when she's on the brink of getting together or breaking up with someone. These episodes are the strongest example of that dynamic, and they're also good evidence for how the show thrives when everything's about to fall apart. In "Teach Me Tonight," the seeds of the picnic auction finally bloom into Rory's infamous broken arm. From there, watch through the end of the season to get Lane's discovery of the drums, Lorelai's business-school graduation, Sookie and Jackson's wedding, and the brief hope of Christopher. If that weren't enough, it also has the world premiere of Kirk's independent film.
The Best of Rory's Senior Year (season 3, episodes 5 through 9)
If you're motivated by the beautifully sad ending to season two, it's best to pick up the story here. The beginning of season three has a lot of delaying tactics before it gets back to the heart of things, but when it finally does, the show is gangbusters. The pinnacle of this batch of episodes is unquestionably the dance marathon episode "They Shoot Gilmores, Don't They," possibly the single best episode of the show's entire run. This lot will also introduce you to Rory's future at Yale, it'll give you Lorelai going on a date with Jon Hamm, and you'll finish up with the best Gilmore Thanksgiving episode and Sookie's drunken deep-fryer meltdown. Also: Dave Rygalski.
The Sentimental Period (season 3, episode 22 through season 4, episode 2)
There was a lot of concern about what Gilmore Girls would look like when Rory no longer lived at home, and how the show would negotiate her college years. The series reflects that anxiety within its main relationships, and for a lot of Gilmore fans, the best moments come when it doubles down (or triples down) on the sob-worthy sentimentality of it all. If that's you, begin with the season three finale, "Those Are Strings, Pinocchio," which features Rory's farewell to Chilton and her valedictorian speech in honor of her mother. It's worthy of an entire box of tissues just by itself. From there, launch yourself into Rory's slightly rocky move to Yale, then pour one out for poor, perpetually friend-zoned Marty.
The Reign of Emily Gilmore (season 4, episodes 14 through 16)
It's easy to get caught up in the Lorelai and Rory of it all, but Emily Gilmore steals every single scene she's in, and when Gilmore Girls gives her dramatic work to do, it will just knock you down sideways. Season four is more known for what comes at the end — we'll get there in a moment — but these episodes are some of the darkest and most gloriously raw moments we get from Emily, as she starts to pull away from Richard and copes with his mother's death and his emotional distance from her. "Scene in a Mall" is … well, phew.
When It Finally Happens (season 4, episodes 19 through 22)
Depending on how you feel about the Rory/Dean development, this run of episodes might be your favorite or they might be the worst. For me, the pleasure of finally getting somewhere in Luke and Lorelai's relationship outweighs the disappointment in Rory's narrative direction. But what really makes this sequence stand out is how Luke and Lorelai's big moment is threaded inside a classically Gilmore mess of glorious chaos. It's the opening of the Dragonfly Inn, it's Emily's separation from Richard, it's Jess's departure, it's Liz and T.J.'s wedding, it's Kirk's night terrors. It's pretty amazing. (Note: If you actually care about the mechanics of Lorelai's separation from Jason and the business deal with Richard, try starting at episode 18.)
The Rise of Logan (season 5, episodes 15 through 19)
Inevitably, Luke and Lorelai break up, Rory and Dean break up, and stuff gets pretty uneven for a while. This is one of the last batches where things between Lorelai and Luke still even out nicely — it's before the dark days of April Nardini — and where Rory can be drawn to Logan's rich-boy aesthetic before falling off the deep end of yacht-stealing and dissolution. This run is where things between Rory and Logan become serious, but before that can happen, Rory, Paris, and Lane get blasted on Founder's Day punch and complain about their love lives while everyone tours the freakish dioramas inside the old Twickum house.
The Prodigal Daughter Returns (season 6, episodes 5 through 9)
If you're the sort of person who enjoyed the bits where Rory and Lorelai were really on the outs, then you probably know which other parts to watch in seasons five and six. But if you'd rather pick things up once there's a head of steam gathering for their reunion, start with "We've Got Magic to Do," when the first cracks start to show in Rory's new DAR lifestyle, and watch through "The Prodigal Daughter Returns," as Rory finally gets the ship righted again. "We've Got Magic to Do" is worth it for the Hollywood Canteen party and the righteous smackdown of Shira Huntzberger. And while you're waiting for Rory and Lorelai to make things right again, Taylor tries to rename all of the Stars Hollow streets.
The Last Episodes (season 7, episodes 19 through 22)
It's tempting to just draw a veil over the rest of season six and all of season seven. April Nardini. Lorelai marries Christopher. Rory gets a job, somehow, by just standing in lobbies. But if you want to remember how the series finished up — and from where the new Gilmore season will launch — start with episode 19, which gives us the first hint of Lorelai and Luke's post-Christopher truce. Rory stresses about her future, wonders about her relationship with Logan, and graduates from Yale. Lorelai does very drunken embarrassing karaoke. If nothing else, Richard and Emily sing a super-adorable Cole Porter number at Rory's graduation party, and she goes off to work on the Obama campaign. It was a simpler, more optimistic time.
Other great episodes worth hitting along the way:
"Love, Daisies and Troubadours" (season 1, episode 21): Max proposes to Lorelai.
"A Tale of Poes and Fire" (season 3, episode 17): The Independence Inn burns down.
"The Festival of Living Art" (season 4, episode 7): One of Stars Hollow's most completely bizarre and elaborate traditions.
"Friday Night's Alright for Fighting" (season 6, episode 13): A truly remarkable all-Gilmore family meltdown scene.
"I Get a Sidekick Out of You" (season 6, episode 19): Lane and Zack get married!