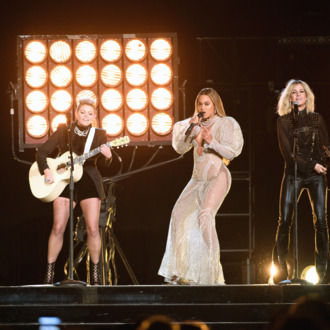 There's a really strange void in the Country Music Association's coverage of last night's awards show, in that the evening's most-talked-about entertainers are basically nowhere to be found on the CMA website or within the association's social-media presence. Which makes our imagined conversation about the whole thing look something like this: "Are you there, CMAs? It's us, Beyoncé and the Dixie Chicks, and we'd like to know why you're not talking about us at all, despite the fact that our collaboration on the song 'Daddy Lessons' reached No. 1 on the Billboard + Twitter Trending 140 chart, and made us the most-talked-about moment of your annual telecast. So what's good?"
It really is a weird omission for the CMAs, which presumably green-lit the performance to expand its audience reach beyond traditional country fans. Now the Association is being hit with accusations of actively scrubbing Beyoncé and the Dixie Chicks from its coverage. Some outlets are even going so far as to level charges of racism at the organization, saying that the CMAs removed mentions of Beyoncé from its social presence to appease fans angry about a black pop star performing on one of country's biggest stages. And the Chicks have their own rocky history with the country-music Establishment, which singer Natalie Maines alluded to today when she posted this tweet:
Still, it would likely be impossible to prove malice was directed at either the Chicks or Beyoncé by the CMAs, and the Association has not commented on the allegations. It is factually correct, however, that with the exception of a performance video on ABC's CMA portal and a pair of re-shared posts on Facebook and Instagram, Beyoncé and the Dixie Chicks have been left out of the rotation by whoever is handling official CMA press. As of press time, they're absent from the performers and presenters section of the CMA World website, there's no mention of them in the show's recap, and their "Daddy Lessons" number hasn't been promoted on the official CMA Twitter feed, either. (You'll find pictures of singer Brett Eldredge at game seven of the World Series and promotion for the a cappella group Pentatonix, but no Bey or Dixie Chicks.) So we might not know what your game is over there, CMAs, but we hope you'd agree that a little more Beyoncé is never a bad thing.
Update: The Country Music Association has responded to the controversy in a statement obtained by Billboard that says, "CMA has not erased any mentions of Beyoncé's performance on the CMA Awards. In advance of the broadcast, CMA removed a five-second promotional clip from ABC.com and CMA's Facebook page. The promo was unapproved and CMA removed it prior to the broadcast. Beyoncé's performance with Dixie Chicks was a highlight of the evening and we are continuing to share the amazing full-length performance clip via our official social channels."