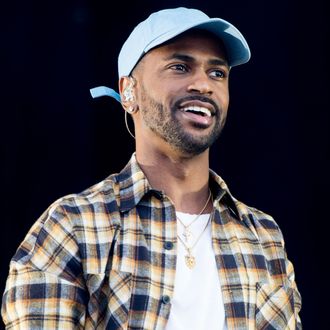 So much hurt.
Photo: Ollie Millington/Redferns/Getty Images
Some fights are best settled off-wax, but it just wouldn't be rap if men weren't letting out their feelings in the booth. You've heard Drake go after Kid Cudi on a diss record in response to Cudi's airing of their dirty laundry on Twitter. Now, allow Big Sean to also get a word in edgewise. The man will be overshadowed no more! Because back before Drake and Kanye were so buddy-buddy, Sean was Kanye's lapdog and one of his earliest signees to G.O.O.D Music. Which, what a coincidence, so was Kid Cudi. As such, no one is more hurt by the apparent schism between Cudi and Kanye (though Cudder's anger seems far more directed at Drake) than Sean. He has released two new solo songs, "Bounce Back" and "No More Interviews," but it's the latter we need to address. In it, Sean unpacks everything from his current relationship with the label (he doesn't want to talk about it), his new relationship with Jhené Aiko (he also doesn't want to talk about it), and Cudi's betrayal (he'd very much like to talk about this).
"It hurt to hit the internet to find out that me and you don't fuck with each other / Over a miscommunication that probably could be fixed with a 5 minute conversation," he raps. Now, technically, Cudi never mentioned Sean by name in his original tweetstorm, but still Sean feels personally victimized. He even references putting Cudi on his 2013 song "First Chain" with Nas, and how it was meant to cement their brotherhood. But as Sean now seems shocked to learn, your rap family is not your actual family. Sorry, boys.