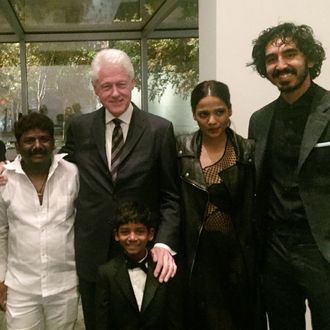 Bill Clinton with Saroo Brierley, Sunny Pawar, Priyanka Bose, and Dev Patel.
Photo: Sunshine Sachs
If you're wondering how the Clintons' post-election life is going to look, last night was a perfect indicator. While Hillary gave an emotional speech at the Children's Defense Fund's gala in Washington, D.C., telling the crowd that she'd felt a strong pull to "never leave the house again," Bill went to a movie! On Wednesday night, the ex-president attended the MOMA premiere of the Oscar-contender sobfest Lion, which tells the true story of Saroo Brierley, a young boy in India who gets separated from his family, adopted by Nicole Kidman in Australia, grows up to be hot Dev Patel, and 25 years later, tracks down his birth mother through the wonders of Google Earth. It sounds cheesy, but seriously, I cried for two hours straight. (No word if Bill was similarly affected.)
The thwarted first First Gentleman was at the premiere as a guest of Harvey Weinstein, who called him an "inspiration" for the fight against "hate crimes, anti-Semitism [and] prejudice." Bill got a standing ovation, then after the screening, met and posed for pictures with the real-life Saroo and his Australian parents, as well as the film's stars Dev Patel, Nicole Kidman, Priyanka Bose, and 8-year old Sunny Pawar, who plays little Saroo. (Pawar was initially denied a visa to attend the premiere, which the Weinstein Company told Variety was probably because of "immigration paranoia.") At least the Clintons are staying consistent: Bill the gadfly, Hillary the busy bee. And if she decides to hole up Thanksgiving weekend with a tub of turkey and mashed potatoes and gravy, binge-watching The Gilmore Girls Netflix revival, really, who could blame her?