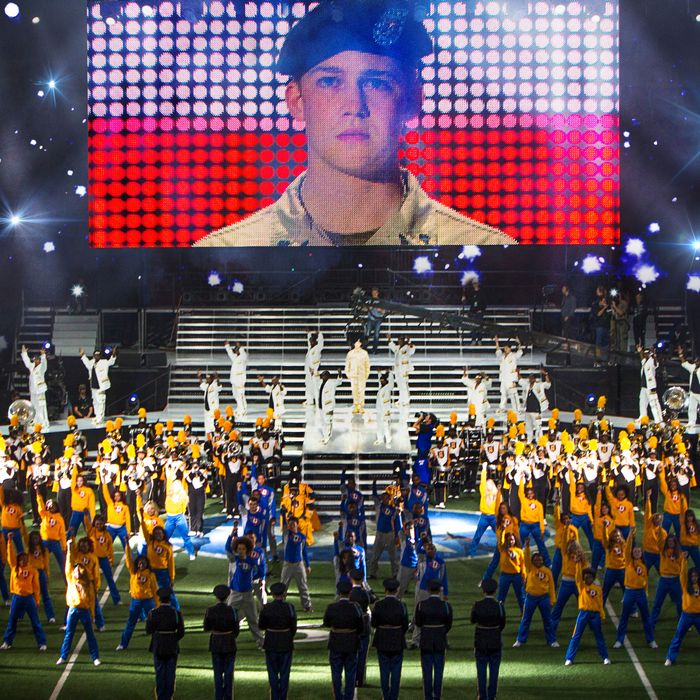 I need a soldier.
Photo: Mary Cybulski/Sony Pictures
Perhaps you already know the premise of Billy Lynn's Long Halftime Walk, an Iraq War movie based on the novel of the same name, which dramatizes the titular veteran's experience with PTSD during a Cowboys game. Perhaps you've read about the controversy over Ang Lee's decision to shoot the film with a remarkably high 120 fps frame rate, which has the effect of making all the actors look like plastic dolls. This is not a post about either of those things. This is a post about how Billy Lynn's Long Halftime Walk features a fake Beyoncé — and also a fake Kelly and Michelle. But more importantly: Fake. Beyoncé.
Fake Beyoncé plays a small, but crucial role within Billy Lynn's narrative: Destiny's Child is headlining the halftime show where Billy (Joe Alwyn) and the rest of his squadron are being honored. In the film's central set piece, the soldiers march with the trio to the stage, and then assemble behind them for a performance of "Soldier." This triggers a bunch of PTSD flashbacks for Billy and the rest of the gang. As fake Bey, Kelly, and Michelle perform, we cut back to a battle the soldiers fought Iraq. It's all an indictment of American mid-2000s excess — do you get it? (If you don't get it, there's an earlier scene where Billy has a sex fantasy while Kellie Pickler sings the national anthem.)
If you're wondering how good the fake Beyoncé is at playing Beyoncé, well, it's hard to tell. She's played by the actress and dancer Elizabeth Chestang, who does a solid interpretation of Bey's strut but is, of course, obviously not Beyoncé. If you're interested, you can watch Chestang's dance reel here, and look up her SoulCycle profile here. (Her listed inspiration is, of course, Beyoncé.) Ang Lee graciously cuts around her performance wherever possible, so that we never see fake Bey's face, only the back of her head, her strut, and a few of her dance moves. The film's credits list Destiny's Child's recordings of "Lose My Breath" and "Soldier," so it seems likely that fake Beyoncé didn't have to sing like real Beyoncé. The film's biggest moment of realism comes when fake Beyoncé waves at the soldiers during a quick change, and they all gape in awe at her presence, which is definitely the correct reaction to being within 20 feet of Beyoncé herself.
When Billy recovers from his war flashbacks, he's alone onstage, and fake Beyoncé is nowhere to be seen. Narratively, this makes sense, as it keeps the focus on Billy, but you have to imagine it was also a practical decision. After all, there's such a thing as having too much fake Beyoncé in your film, even if fake Beyoncé's performance is the centerpiece of the film. Even in 3-D, 4K resolution, and 120 fps, there's no substitute for the real thing.