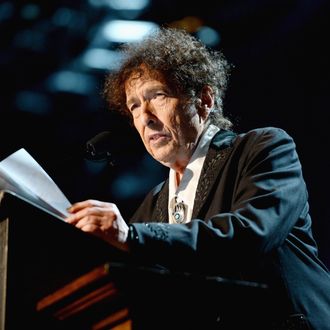 Not even Obama gets an audience with Dylan these days.
Photo: Michael Kovac/WireImage/Getty Images
In a quest to make absolutely no one feel special, Bob Dylan has bailed on the president of the United States, too. White House officials announced in a statement that Dylan was just straight up not attending President Obama's meet and greet with the American Nobel Prize winners on Wednesday: "Unfortunately, Bob Dylan will not be at the White House today. So everyone can relax." That means even you, Mr. President, who we can only assume has spent restless nights wondering if he, too, would get stood up by Dylan once more. Turns out, just as Dylan didn't care about attending the actual Nobel Prize ceremony, he probably cares even less about meeting the president again if it's not for another Presidential Medal of Freedom. (But, hey, at least he didn't keep Obama waiting by the phone to cancel their date.) Was it something Obama said — calling Dylan one of his "favorite poets," perhaps? The heart wonders.