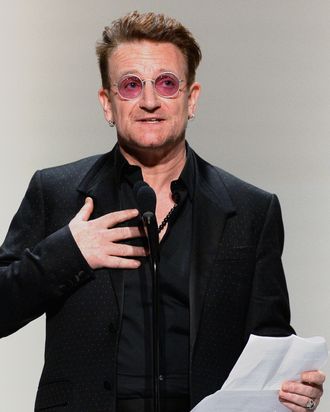 The Man of the Year.
Photo: Kevork Djansezian/Getty Images for Glamour
When Glamour magazine announced that Bono would be receiving their first Man of the Year Award alongside their usual Women of the Year, the internet was not pleased. But after acknowledging the backlash while accepting his award on Monday night at Glamour's 2016 Women of the Year Awards ceremony in Los Angeles, the U2 singer used the rest of his speech to lament the "misogynistic, violent, and impovrished path" the world went down in 2016, and called for unity, especially in light of the election of Donald Trump. "There is a time to be heartbroken, and a time to break everything apart. There is a time to grieve, and a time to get organized," Bono said. "And in the words of Flo Kennedy, and most recently Lena Dunham, don't agonize, organize." He continued:
I asked my wife Ali tonight what I should say on receiving this award, and she said what she told me all those years ago: 'Don't look down at me, but don't look up at me either. Look across to me, I am here.' So that's what I'm doing. And that's what we're doing. We're going to look across at each other. And in these times, maybe the most important thing is to look across at the person who agrees with you on nothing, maybe they're in your family, maybe they live across the street, maybe they're about to move into the White House. So I say to the president-elect, look across to women, make equality a priority; it is the only way forward. The train is leaving the station, be on it, or be under it.