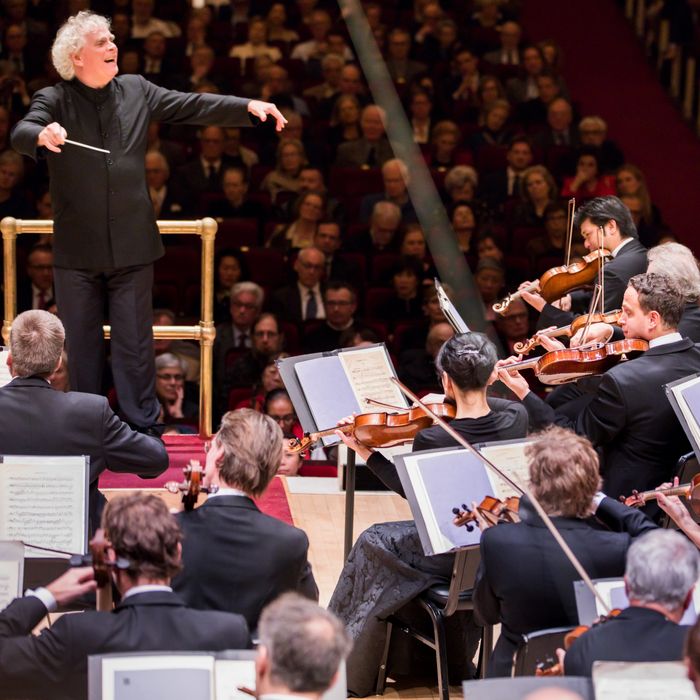 Simon Rattle conducts the Berlin Philharmonic at Carnegie Hall.
Photo: Chris Lee
Crisis can be good for art, and art offers succor in a crisis. The Berlin Philharmonic's Carnegie Hall concerts this week were planned a year or two ago, and it arrived in time to bring timely musical dispatches from another perilous decade. A little more than 100 years ago, while blustering bureaucrats were busy leading Europe toward apocalypse, a group of young composers in Vienna forged a new music of hard, glittering sensuality. Arnold Schoenberg, Anton Webern, and Alban Berg have been blamed for leading 20th-century composers into a modernist wilderness, but the music they wrote in those years before World War I had the compressed clarity of diamonds. The Berliners, led by Simon Rattle, played three sets of orchestral miniatures — Schoenberg's Five Pieces for Orchestra, Op. 16; Webern's Six Pieces, Op. 6b; and Berg's Three Pieces for Orchestra, Op. 6 — as a single suite of revelations. Rattle sees that collection as the eleventh symphony that Mahler would have written had he lived to discover the explosive power of brevity.
Webern's Six Pieces are famously terse giants. The composer plucks sounds from a massive orchestra and gives each thought a single exhalation, nothing more. Cough, and a climax has sped by. Rattle made the score sound at once expansive and intimate, rendering a vast emotional panorama in close-up whispered detail. Threads of melancholy, terror, joy, and wistfulness were wound so tightly together that there was almost no time to register one before moving on to the next.
The term avant-garde doesn't have much meaning today; its martial implications don't apply now that the market sweeps up freshly minted art-school grads and the big institutions keep trolling for novelty. You can't attack an establishment that hugs you back. But in Vienna in 1909, Schoenberg, Webern, and Berg really did form a revolutionary unit of atonal warriors. Linking their separate works into an expressionistic chain elided the differences between them, but the payoff was an electrifying arc.
Over two evenings, Rattle surrounded the Schoenberg-Webern-Berg triptych with music of different decades and disparate styles but a similarly dark intricacy: Brahms's Second Symphony (1877), Mahler's Symphony No. 7 (1905), and Pierre Boulez's Éclat (1965). What united them was the way they all set seductive miniatures in a cosmic vision. Boulez tosses out gnomic bursts of sound that go speeding off into the ether before you quite know what you've just heard. Mahler begins the second movement of his Seventh Symphony with a plaintive horn call that whips up a nocturnal muttering of winds. In each of these moments, Rattle and the orchestra showed us the blackness behind the notes, an emptiness made more infinite by bright shards of beauty.