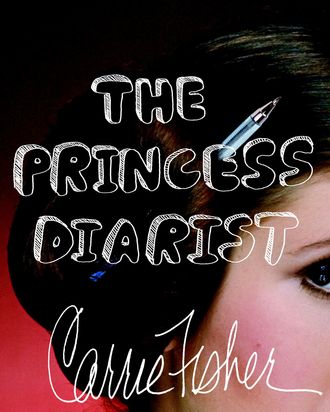 As has been previously reported, 19-year-old Carrie Fisher had a three-month affair with her 33-year-old married co-star Harrison Ford while filming Star Wars. The news comes from Fisher's latest memoir The Princess Diarist (out today), in which the actress looks back on her complex relationship with Princess Leia, the character that made her internationally famous, for better and worse. The book is premised on Fisher's discovery of the diaries she kept on the Star Wars set in London. So while there are a few tidbits of behind-the-scenes information — Fisher talks about auditioning for Carrie and Star Wars for Brian De Palma and George Lucas at the same time — the book primarily focuses on her emotional experiences.
For that, there's plenty of material, as Fisher dedicates a significant bulk of her memoir to excerpts from her set diaries. As you might expect from a precocious teenager having an affair with a handsome older married man, these pages are full of some very intense poetry. Here's one example of Fisher's artistic work:
Don't offer me love
I seek disinterest and denial
Tenderness makes my skin crawl
Understanding is vile
When you offer me happiness
You offer too much
My ideal is a long-lasting longing
For someone whom I cannot touch.
Here's another:
With him love was easier done than said
Instead of taking you to heart he would take you to bed
And you take what he has to offer lying down
You're getting more involved while he's still getting around

It's all a matter of touch and go
Cause he's one for all and all for show
But after all was said and almost done
I was playing for keeps and he was playing for fun
Now, as any Poetry 101 professor will remind you, the speaker in Carrie Fisher's poems isn't necessarily herself, nor is the subject necessarily Harrison Ford. Though she makes a few passing references to Star Wars cast and crew members elsewhere in the diary, the poems don't bring up many identifying features — she doesn't rhyme things with Ford or make any coy references to "Solo." But speaking entirely hypothetically, if one were involved in an affair with Harrison Ford and were writing poems at the same time, it'd be a safe bet to say that those poems were about Harrison Ford. (Fisher has said that she told Ford that she was publishing the book, but he hasn't made any public comment on it.) For whatever it's worth, Fisher's poems are also pretty good, which makes sense, considering that Fisher went on to write Postcards From the Edge. One last selection:
A woman's place is in the home
Seated by the telephone
Men sow their wild oats
And women are sown.
Snaps all around.