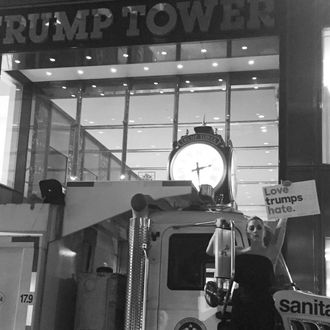 Photo: ladygaga/Instagram
As the reality of Donald Trump's presidential election victory sinks in, there have been calls from both Hillary Clinton and President Barack Obama to accept Trump as president and to, in essence, give the guy a chance. To which, quite a whole lot of people — celebrities in their midst — are saying, no thank you, we will not. Instead, in the election's aftermath, they have exercised the heck out of their possibly endangered First Amendment freedoms, showing up at protests in person and declaring their objections to Trump's presidency online. Below, a look at how celebrities are protesting Donald Trump's America.
Mark Ruffalo
"Love Trumps Hate love fest NYC Thousands in the Street."
Lady Gaga
"🇺🇸❤️I want to live in a #CountryOfKindness #LoveTrumpsHate He divided us so carelessly. Let's take care now of each other."
Madonna
"Need to Turn these Words into Action……….So Now What? ?????? 🙏🏻🇺🇸 Rebel ❤️'s Unite. N.Y.C. Start A Revolution of ❤️🙏🏻🏃🏃🏃🏃🏃🏃🏃🏃🏃🏃🏃"
Taran Killam
I love America! I LOVE New York!!!
Questlove
Taking It To The Streets. Trump March Protests In Manhattan.
Hari Nef
Julia Stiles
"Proud of NYC, and my sister representing in the rain #notmypresident #imstillwithher"
Cher
Jamie Lee Curtis
Katy Perry
Patton Oswalt
Sarah Silverman
Alyssa Milano