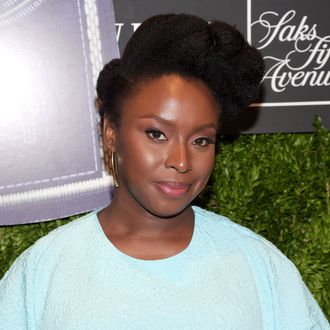 Photo: Jason Kempin/Getty Images for Vanity Fair
A few days after the election, Chimamanda Ngozi Adichie appeared on the BBC's Newsnight to talk about the results. She was paired with R. Emmett Tyrrell, the editor-in-chief of the American Spectator, a conservative magazine. Adichie was a Clinton supporter; Tyrrell had backed Trump early on. The interview grew heated when Tyrrell insisted Trump had never been racist and Adichie shot back, "I am sorry, but if you are a white man you don't get to define what racism is."
Over the weekend, Adichie wrote a long Facebook post addressing the interview, saying her manager hadn't been told she'd be on a panel with a Trump supporter. "I wanted to walk away, but decided not to," she wrote. "I was already there. And I did want to talk about the election, which I had experienced in a deeply personal way … With Donald Trump's win, America just didn't feel like America anymore."
She went on to explain her response to Tyrrell:
The interview began. I was determined to speak honestly, and not be distracted by the Trump Supporter, and be done with it and go home and never again allow myself to be ambushed in a television interview.

Until the Trump Supporter said that word 'emotionally.' "I do not respond emotionally like this lady," he said.

To say that I responded 'emotionally' to the election was to say that I had not engaged my intellect. 'Emotional' is a word that has been used to dismiss many necessary conversations especially about gender or race. 'Emotional' is a way of discounting what you have said without engaging with it.
When Tyrrell called her "emotional," Adichie said she felt compelled to respond — the result was a heated exchange that made headlines. "I left that interview still feeling upset," she concluded. "But it made me better see why America no longer feels like America."