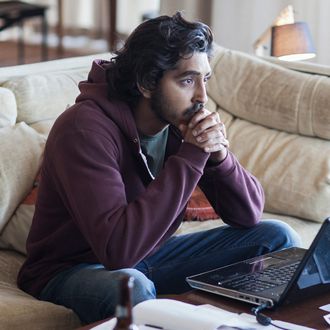 Photo: Mark Rogers/© Long Way Home Productions 2015
If you head out to the movie theaters this weekend to see Dev Patel and his beautiful hair in Lion, please remember that you're indeed seeing Patel on the big screen and not, as an unfortunate error in the Wall Street Journal may indicate, another actor of Indian descent. In his WSJ review of the Garth Davis–directed drama, critic Joe Morgenstern erroneously referenced a past film performance of Kal Penn, as opposed to Patel, to flesh out some background in his print and online review. "Saroo is played dazzlingly by Dev Patel, who gives his richest performance since The Namesake," Morgenstern wrote, referencing the 2006 drama in which Penn played one of the main roles. The mistake soon caught wind on social media, where Penn himself retweeted an account that pointed out the error.
Morgenstern was quick with an apology, tweeting out: "What a dumb error." The online edition of the review has also been corrected.