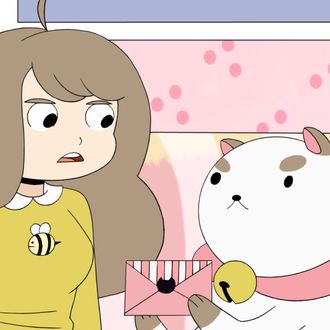 Bee and Puppycat, themselves
A little over two years ago, artist Natasha Allegri made history by raising more Kickstarter money for a film project than any other woman had before. The project she sought to fund was her then-nascent web cartoon Bee and Puppycat, which was only two episodes deep at the time. It was quirky and kawaii as all hell, following the surreal adventures of a young woman named Bee and her sentient pet Puppycat (not quite a puppy, not quite a cat) as they go on cosmic temp jobs. After her pecuniary success, Allegri cranked out two more installments … but then, the series disappeared. Take heart, nerds, the titular tempers are returning: Two new episodes of Bee and Puppycat have just debuted. "Toast Dogs Wedding Donut" and "Birthday Game" are both available on a new video platform called VRV. You can only get 'em on your phone, your Xbox, or your PlayStation, so maybe you can hold your phone and pretend you're cradling your very own puppycat as you watch.* In the meantime, you can peep the first two episodes on YouTube:
*This article has been updated to reflect that VRV is available on Xbox and PlayStation.