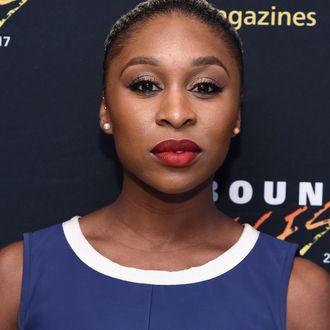 Photo: Ilya S. Savenok/Getty Images
Tony-award-winning actress and woman who can legitimately sing like an angel Cynthia Erivo took to Facebook on Monday to address a common comment she was seeing directed at fellow performers. "I keep reading that people on stage should 'shut up and perform' that you the audience 'pay us to entertain,'" Erivo wrote. "I hear 'dance monkey dance,' I hear 'you aren't real,' 'don't think just act/dance/sing. I AM SICK OF IT!"
Though The Color Purple star did not name the controversy surrounding Hamilton's direct address to Mike Pence, and many's call (including President-elect Donald Trump) for performers to withhold political opinions from the Broadway stage, it appeared that the importance of actors was high on Erivo's mind. She decided to school people out there on just why performers aren't wind-up dolls, meant to clash their drums whenever you so please, and then go limp when the audience's amusement is done:
We (if we are lucky) are all paid to do our jobs. The difference between me and you is, I get to help you escape, I get to help you work through your issues, we provide way more than entertainment. Those kids you keep insulting for playing dress up, are doing something you forgot how to and that is using imagination. When you so lack the charisma you need to convince people of a point, when you need to call on people's hearts, we are the ones you call for help. Though it is hard to comprehend the fact that what we do is hard, it is!! But because we are super human, we make what we do LOOK easy. We eat no's for breakfast and fight for the yeses we get.
Read Enviro's full response and why she is proud of her career below.