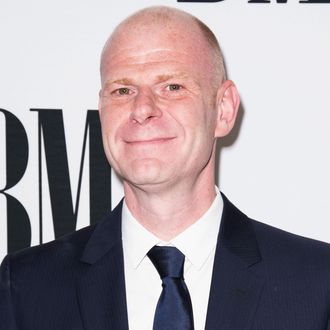 Composer Tom Holkenborg, a.k.a. Junkie XL.
Photo: Tara Ziemba/FilmMagic/Getty Images
Things are getting weird in the brain trust for Deadpool 2. At the end of October, the production lost its director and one of the biggest champions responsible for bringing the property to screens in the first place, Tim Miller. At the time of his departure, The Hollywood Reporter cited insiders claiming "creative differences" between Miller and the face of the newborn franchise, Ryan Reynolds, were responsible, and said the two had "increasingly butted heads" over the direction of the second film. And today, directly because of Miller's exit, composer du jour Junkie XL (real name Tom Holkenborg) announced via Facebook that he, too, will be leaving the movie.
"It is with a heavy heart that I have decided not to score the upcoming Deadpool movie," Holkenborg wrote. "Since it was revealed that Deadpool's brilliant creative director Tim Miller will not be involved in the project anymore, I have undertaken some soul searching. Tim was the driving force behind Deadpool and me getting involved in this amazing project. Deadpool without Tim at the helm just does not sit right with me and that is why I have decided not to be involved in the second chapter."
Holkenborg made a huge splash with his Mad Max: Fury Road score in 2015, and has since lined up more superhero-movie projects in addition to Deadpool, working on Batman v. Superman: Dawn of Justice with Hans Zimmer, and the upcoming Justice League. So that makes two high-level creatives who were deeply passionate about the Deadpool franchise, and who were uniquely involved in bringing the first movie to life, who are out the door. That seems like some pretty bad news for Fox's new cash cow, and odd considering how notably tight the writers, directors, and star became while convincing Fox to take a chance on the Merc with a mouth. As THR put it back in February, when it was announced that a sequel was already being drummed up, "[Rhett] Reese, [Paul] Wernick and Miller, as well as star Ryan Reynolds, have fought an uphill battle within the studio system to get the movie made, forging themselves into a compact unit."
One very big part of that unit has now left, resulting in collateral damage of a big-name composer. For a movie so reliant on a specific tone and R-rated sensibility — in a way that no other superhero movie has dared to attempt — it will be interesting to see if other key players leave Deadpool 2.