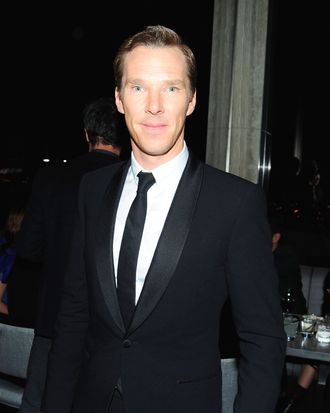 Bendlesnorp Cumberdeepie.
Photo: Paul Bruinooge/Patrick McMullan via Getty Images
There's plenty of magic in Doctor Strange, the latest Marvel Studios outing, but perhaps the greatest spell of all is the one that goateed leading man Benedict Cumberbatch pulls off in his dulcet baritone. Cumberbatch is, of course, a leading export in the U.K.'s thriving sexpot economy, in no small part due to his mellifluous English accent. So when the film's first trailer dropped and fans learned that he'd be playing Strange as a red-blooded American, there were justifiable fears that Cumberbatch might join some of his countrymen in flubbing the enterprise. But that was not the case! His American inflections are more or less flawless. How did he pull off such lingual wizardry?
At the movie's New York premiere, hosted by the Cinema Society and Lamborghini, we asked the slender thespian whose accent he modeled. "Probably [Doctor Strange director] Scott Derrickson, because he was there all the time," Cumberbatch said with a laugh. It was a bit of an any port in a storm situation, as it turns out: "The majority of the crew were English. We had American producers and Scott, and that was sort of it." However, he may have been unknowingly drawing on a past genre-film hunk. "I was about to say Harrison Ford," Cumberbatch said while trying to think of other role models. "You want a man like Harrison Ford in any film of this nature, but I don't think it's a Harrison Ford impression. But I think he's just subconsciously a great influence on my childhood era."
Still, much as Doctor Strange has to overcome Kaecilius in order to save the world, Cumberbatch faced a challenging foe in his quest to master the American dialect. We asked what the hardest word to say in the accent is. "Funny enough" — he then fell effortlessly into American-ese — "sorcerer" — back to Brit — "is really hard, for some reason. And that is a very important word for the character. There's a lot of Rs going on in that one." Yes, my friend. There really R.