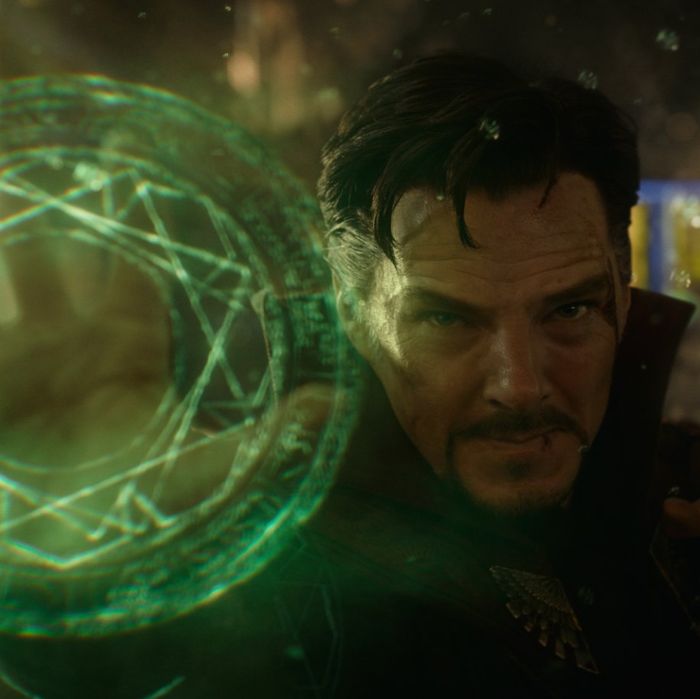 Benedict Cumberbatch in Doctor Strange.
Photo: Marvel Studios
The Main Story
At this point, the Marvel Cinematic Universe is basically the Coca-Cola of movies, a license to print money for parent company Disney — but even by those standards, Doctor Strange is a winner. The Sorcerer Supreme, in the capable hands of star Benedict Cumberbatch and director Scott Derrickson, managed about $85 million domestically on its opening weekend, good for the ninth-highest debut of 2016. While that's just the tenth-best opening for an MCU movie, it's the third-best for an entry introducing a new superhero, behind only Iron Man ($98.6 million back in 2008) and Guardians of the Galaxy ($94.3 million in 2014). That puts it well ahead of the first weekends of Thor and Captain America, both considerably better-known characters than Strange, as well as Ant-Man's opening, illustrating the extent to which Marvel has built a consistent audience for its new releases. Even better, Doctor Strange has been a massive hit overseas: In 13 days, it's made $240.4 million, nearly as much as Iron Man's entire run internationally.
Oddly, the success of Doctor Strange has the additional side effect of making Deadpool's debut back in February look even more astounding: Despite also being the introduction of a new character and franchise, Deadpool tallied nearly $50 million more than Strange did. Strange also trails Batman v. Superman's $166 million and Suicide Squad's $133.7 million openings, but the expectations for those team-up movies were higher than they are for a solo-effort like Strange. It's good to be Marvel, and next year, the machine will start working overtime, with three releases scheduled for 2017 — the first time Disney has exceeded two MCU releases in one year.
What Else Happened?
This was a good weekend overall at the old b.o., with Trolls scoring a second-place finish of $45 million despite being based on a property that nobody's thought about in decades. If anyone needed further proof that animation is the safest bet this side of Marvel comics, Trolls is it — though to be fair, the animated film's reviews and Cinemascore have been solid. However, Trolls won't touch the upper-echelon of animated earners from this year, and in that it might be a bit disappointing to Fox and Dreamworks: Disney's Jungle Book and Finding Dory and Universal's Secret Life of Pets all more than doubled Trolls opening, and Zootopia came out $30 million ahead. Still, it's a solid bow, and Trolls should have long legs (ironic!) until Disney drops Moana on November 23.
In third, Hacksaw Ridge, Mel Gibson's return to form — and, he hopes, respectability — earned just under $15 million. While $15 million wouldn't get Disney out of bed, it's a respectable opening for Hacksaw, which was budgeted around $50 million: If the film's terrific reviews and word of mouth can generate momentum, and maybe even earn some Oscar noms, it'll be a solid success for Gibson and Lionsgate.
And the other performer of note returns for the third week in a row: Barry Jenkins's Moonlight earned $1.33 million in 83 theaters, good for a per-theater average of about $16,000. Those are stellar numbers for a release at this stage of the game, and distributor A24 is being patient with its rollout, letting Moonlight's outstanding reception slowly propel it forward. This is a master class in independent-film distribution, and it'll be fun to keep watching this beautiful movie attract more and more attention in the coming weeks.