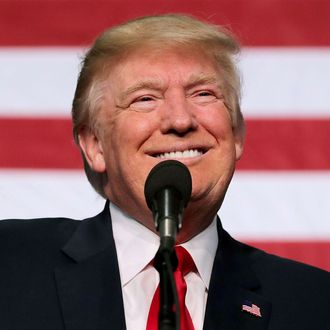 Photo: Chip Somodevilla/Getty Images
The saga of Mike Pence's boo-tastic visit to see Hamilton on Friday evening continues, with Donald Trump once again choosing to bash the Broadway musical for its supposed rudeness toward his Vice-President-Elect. At the conclusion of the performance Pence attended, the cast and crew used their curtain call to address the soon-to-be VP in a short speech written by Lin-Manuel Miranda and read by Brandon Victor Dixon. The statement urged Pence to "uphold our American values" and "work on behalf of all of us." Trump, not a fan of the cast's treatment, demanded that they promptly apologize to Pence and that the theater "must always be a safe and special place." Now, a day later, he's offering even more heated words.
"The cast and producers of Hamilton, which I hear is highly overrated, should immediately apologize to Mike Pence for their terrible behavior," Trump tweeted Sunday morning. Hours prior to that in a now-deleted tweet, the president-elect also opined: "Very rude and insulting of Hamilton cast member to treat our great future V.P. Mike Pence to a theater lecture. Couldn't even memorize lines!" For what it's worth, Ivanka seemed to enjoy her experience at the Richard Rogers Theatre.