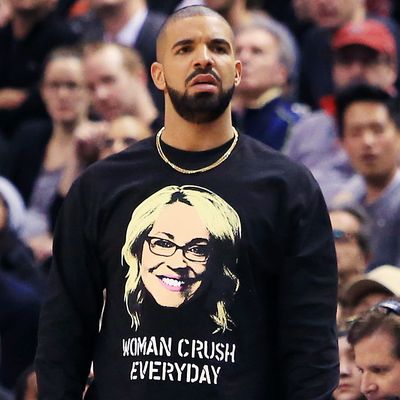 The man, the sweatshirt.
Photo: Vaughn Ridley/Getty Images
Sometimes you pitch a story. And sometimes, that story idea is accepted. And then you travel across the country to go do that story. You sit down with a legendary basketball reporter named Doris Burke and your sole reason for being there is to talk to Doris Burke. There's no buzz-worthy pull quote you're looking for in this conversation, you just want the real, from Doris — and the real is what you get, because Doris has one speed: the real.
You're talking about the intersection between entertainment and the NBA, because you're curious if someone so passionate about the game of basketball keeps up with the peripheral world of celebrity. And in that, you just happen to bring up Drake as an example, since he so commonly treats the Air Canada Centre — home of the Toronto Raptors — like his very lit, bimonthly bar mitzvah, filled with his two friends and 19,000 of his parents' colleagues.
And she responds:
Can I tell you something about the last time I was there? I just could not believe this happened. Drake turned around — my seat at game six was right behind him — makes a heart shape [with his hands], and points at me. I'm looking around behind me to see who's there, turn back to him, and then he points and he does it again. I texted my daughter and said, "You need to know Drake just did this to me."
Wow, you think. In an odd twist, this piece has now stumbled on a nugget of potential virality. Your appreciation for Doris has skyrocketed, but you also are quietly pleased with yourself — imagine a world where, instead of using the Raptors and Drake as an example, you used the Wizards and Wale.
You finish your interview with Doris, turn it into a piece suitable for the internet, and it gets published. People read the piece; people are fascinated to learn about all the things bouncing around in the mind of Doris Burke, but people clearly love the tidbit about Drake.
Aubrey Drake Graham has a lil' crush on Doris Burke and Doris Burke knows that, and now Doris Burke is now making Aubrey Drake Graham's crush public, which could get back to Aubrey Drake Graham, that people know about his crush on Doris Burke.
It's perfect.
Months go by. Summer turns to autumn, and then Trump wins the presidency. Things feel so bleak that you find yourself doing significantly more cringing than smiling, less enjoying life and more prepping for the worst. Finally, something happens that gets you excited. You turn on the television and this is on your screen: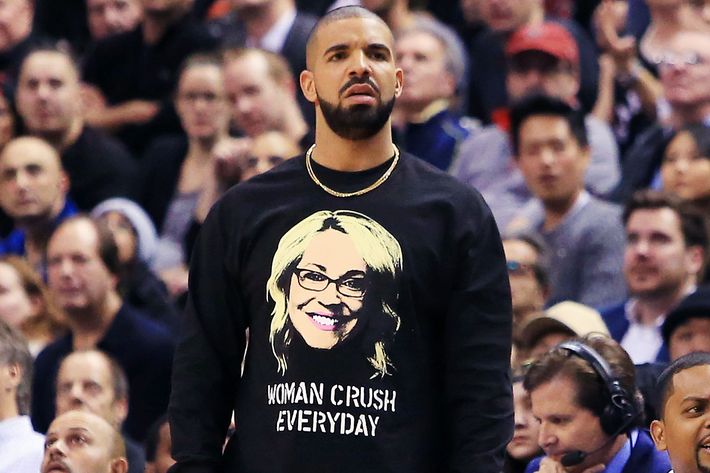 That's Doris Burke's face, on Drake's shirt. And wouldn't you know it, he's in Toronto, courtside for the Raptors game versus the Golden State Warriors, for "Drake Night." On the night where he's quasi-honoring himself, he wore a shirt with the caption "Woman Crush Everyday" in honor of Doris Burke, who, conveniently for Drake, wasn't even there, because puberty and my body is changing and can I ask her to prom via text?
Before the game, you learn he did a press conference — also wearing the shirt. His statement, on the Doris shirt.
"You know, I'm just a big Doris Burke fan, and I just thought tonight would be the night to let her know how much she's appreciated over here at OVO."
But there's more. He was interviewed about his shirt, courtside.
Yes, Drake invited Doris Burke to his house for dinner.
And yes, there is more.
So that's all something that happened, in real life. And while, on the one hand, it's just a silly story of two famous people interacting, it's so much more than that.
The true point of this is that serious journalism made this happen. When Drake and Doris Burke are sitting in a back booth at Red Lobster, know that serious journalism is responsible for the conversation they undoubtedly have about the glory of cheddar bay biscuits. It's a testament to asking the hard-hitting questions — they aren't always the easy ones, but they're the important ones, the ones that could change the course of history.
Let me tell you a little something about changing history: It feels good. There's no rush quite like being solely responsible for an event that increased the traffic for 600 websites, 500 of which most certainly did not link back to your original piece.
Who lives, who dies, who tells your story, right?
And to think, none of this would have happened if, in a moment of panic, I had said Wale.
Never forget that.